Building a robust digital presence and professional network is of critical importance in today's technology-driven work environment, especially for the newest entrants into the workforce.  Fearless+ is a digital career development platform built for high school and college students to establish their digital presence in a novel digital format that goes well beyond the stalwart but dated LinkedIn profile. The platform connects students with college and career opportunities, and mentorship, while also focusing on developing soft skills that are routinely overlooked in academia.  On the profile side, students can create TikTok-style videos, highlight testimonials, and build digital resumes. Founded by a 20-year former HR executive, Fearless+ is completely free for students as the mission-driven company is focused on preparing the next generation for navigating their career journeys.  The company monetizes through agreements with employers as well as through affiliate agreements with service providers on the platform.
AlleyWatch caught up with Fearless+ Founder and CEO Deepali Vyas to learn more about the business, the company's strategic plans, recent round of funding, and much, much more…
Who were your investors and how much did you raise?
Pre-seed through angel investors (individuals) and a family office.
Tell us about the product or service that Fearless+ offers.
Our mission at Fearless+ is to empower the next generation to be successful and democratize access to opportunities. We have focused on building the platform this past year — you can think of it as LinkedIn meets TikTok for the younger generation. We launched a digital platform where students can build their own multi-dimensional profile! A Fearless profile tells the student's holistic story beyond numbers and academics, showcasing their talents, strengths and passion, while also connecting them to best-fit opportunities – college or employment. We help young people get ready for the college search and application process, and learn about potential career paths, so they can be better prepared for what's to come. Through our marketplace, students can search for and apply to internships, jobs, volunteer experiences, local clubs, and more.
What inspired the start of Fearless+?
As a mom of a teenage son – I wanted to make sure that he knows what I wish I knew when I was his age. I thought about curating content at first, but recognized there was a bigger problem with the skills gap with young people entering into the job market and real world. As I contemplated how to bottle my 22 years of executive search and leadership coaching experience to take the younger generation to empower them for success – I was able to partner with my amazing CTO to build a platform that would serve all of these needs and more. We built a platform as a one-stop shop for everything a teen and young adult needs as they pave their own path for success in the real world.
How is Fearless+ different?
There is no platform out there that offers a place to develop your personal brand while connecting you to opportunities and offers that will help both professional and personal success.
What market does Fearless+ target and how big is it?
We are starting with high school and early college student, but the platform can serve young professionals beyond school.
What's your business model?
Our platform is free to users who want to create a profile. We work with employers to feature their opportunities and match them to students with aligned interests. We also have affiliates that offer services and products to our members whom we have vetted and curated to serve the best to our base.
How are you preparing for a potential economic slowdown??
We think this is the best time to build. We are offering something truly differentiated. We are offering free service and democratizing access to opportunities. We do not see an economic slowdown affecting our business in any sort of severely adverse way.
What was the funding process like?
We are currently at seed stage – continuing to have conversations with angels and VCs. As we continue on our growth path, there will be a fast follow of a Series A.
What are the biggest challenges that you faced while raising capital?
To be honest, as a female founder – I feel that I have been treated a bit differently than other male entrepreneurs. My pre-see discussions with angels and VCs were very much "Series A" style, where they wanted so much more information beyond what is necessary at this early stage. What was even more frustrating was that we already had a product – it was not an idea on a napkin trying to get funding to get started. However, with a lot of tenacity and true believers in our mission – we've raised this capital with such strategic and helpful investors. I am hopeful and optimistic that I continue to encounter investors that recognize my experience, our mission, and our team's effort in building a world-class product.
What factors about your business led your investors to write the check?
It was our team, our mission and the actual product – they saw the value in what we have already built and where we are going. Moreover, they trust our team's leadership and tenacity to get things done.
What are the milestones you plan to achieve in the next six months?
Attracting a strong member base and tracking outcomes on our platform as a result of creating a profile on our platform and connecting with opportunities.
What advice can you offer companies in New York that do not have a fresh injection of capital in the bank?
Keep going! Bootstrapping your company will keep you focused with a sharp eye on costs. Lay the groundwork with the investor community because they will want to keep an eye on your business growth.
Where do you see the company going now over the near term?
We have an incredible product roadmap and strategic vision in the near term. We will be adding gamification and blockchain technology to our platform.
What's your favorite restaurant in the city?
The Lobster Club.
---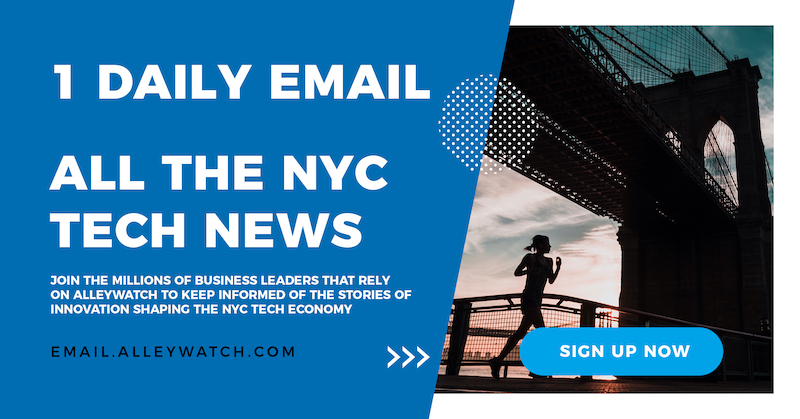 You are seconds away from signing up for the hottest list in Tech!
---