25% of the energy produced worldwide is used directly for cooling and heating homes.  As climate shifts and increases in income are surging demand for cooling and heating solutions, we are collectively looking for ways to utilize lower carbon footprint methods for temperature control. Dandelion Energy offers a geothermal residential system that replaces a home's existing air conditioning and heating systems by placing underground pipes below the property. At a basic level, in the winter, the pipes push heat stored in the ground into your home, and in the summer, the pipes take away heat from your home.  By reducing the dependency on fossil fuels, the company's signature heat pump system will reduce a homeowner's cooling and heating costs by up to 50%, while eliminating 80% of a home's carbon emissions.  The recent passage of the Inflation Reduction Act will provide tax credits to homeowners to make the transition more accessible.
AlleyWatch caught up with Dandelion Energy CEO Michael Sachse to learn more about the business, the company's strategic plans, latest round of funding, which brings the total funding raised to $134.5M, and much, much more…
Who were your investors and how much did you raise?
In this B1 funding round, we raised $70M. The round was co-led by LenX, the corporate venture arm of Lennar, one of the nation's leading homebuilders, and NGP ETP, the energy transition investing platform of NGP. The funding round included participation from Breakthrough Energy Ventures, NEA, GV, Collaborative Fund, and Building Ventures.
Tell us about the product or service that Dandelion Energy offers.
As the nation's leading residential geothermal company, Dandelion Energy helps homeowners free their homes from fossil fuels.  By making geothermal heating and cooling systems accessible and affordable for modern homeowners, Dandelion is working to mitigate climate change with renewable technologies that decarbonize homes. Today, Dandelion's heating and cooling solutions allow homeowners to save up to 50 percent on their heating and cooling bills and help the environment by moving away from conventional systems to reduce homes' carbon dioxide emissions by up to 80 percent. The state-of-the-art geothermal heat pump system offers wifi-enabled monitoring, creating a smarter, more responsive, and more innovative approach than any other HVAC system on the market.
What inspired the start of Dandelion Energy?
Our team began working on creating a more cost-effective geothermal solution while working at X, Alphabet's innovation lab. X was initially launched by Google for the development of their self-driving car and evolved into a research and development facility known for working on big ideas to help improve the future. X now operates as a subsidiary of Alphabet Inc. In May of 2017, the team decided to launch as an independent company to experiment with the commercial viability of the product.
How is Dandelion Energy different?
Dandelion's products sit at the intersection of sustainability and affordability.  With home heating and cooling accounting for more than half of a home's energy consumption, heat pumps are increasingly considered a compelling alternative to traditional gas-powered furnaces. Dandelion has taken this decades-old technology that is stable, cost-effective, and reliable, and streamlined the entire process for consumers in a way that is simple and mostly virtual. Homeowners interested in geothermal as an option start with an online survey to confirm if their home qualifies; followed by a virtual meeting with an energy consultant and virtual site survey; and the last step is the only one not completed virtually: the installation. We install the geothermal system in 3 stages: drilling and installing the underground loop, connecting the ground loop to your home, and installing the heat pump where typically a furnace used to sit. Between tax incentives, utility rebates and other factors, in addition to available financing, Dandelion makes residential geothermal accessible to everyday homeowners who want to make the switch to save money and reduce their carbon footprint.
What market does Dandelion Energy target and how big is it? 
Our goal is to provide a solution for every home that uses fossil fuel for heat and it's one of the largest markets in the world.
What was the funding process like?
Fundraising is always stressful because your company is like your baby; and it can feel like you're putting your baby on the table to be examined by third parties and even though the baby is healthy and strong – people will point out traits they wish were different. So, the goal is to find investors who share your vision and see the potential that you see; and we were lucky to have found terrific investors who believe in our product, team, and opportunity.
What factors about your business led your investors to write the check?
We've had great demand, terrific growth, we're operating in an enormous market, and we are addressing a problem that is real and only going to grow more urgent.
What advice can you offer companies in New York that do not have a fresh injection of capital in the bank?
Conserve the capital you have, and plan for fundraising to take twice as long as you expect.
Where do you see the company going now over the near term?
We're focused on four areas – we want to invest in our product; bring more and better financing options forward to customers; partner with new home builders; and expand geographically.
What's your favorite restaurant in the city?
Superiority Burger.
---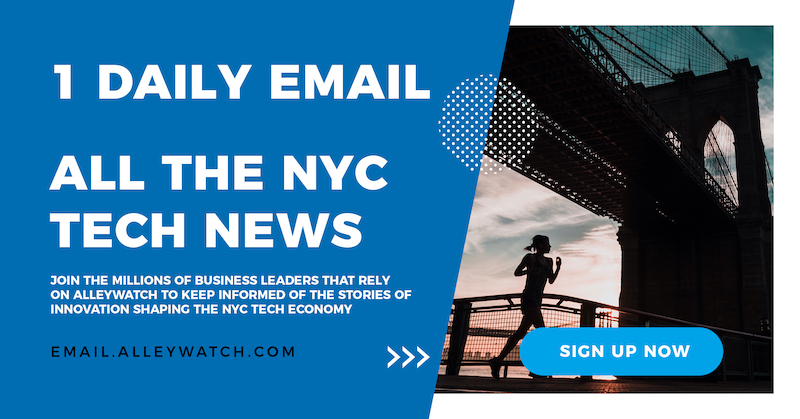 You are seconds away from signing up for the hottest list in Tech!
---