Flooding is the most common natural disaster in the United States. Yet, most homeowners and commercial property insurance policies do not offer flood coverage.  In order to get coverage, one must purchase separate policies from the National Flood Insurance Program, a program offered by the federal government, or from a handful of private insurance companies that offer flood policies specifically.  With climate change increasing the possibility of catastrophic flooding events, insurers are looking to better understand and assess flood risk.  Floodbase is a comprehensive data solution that uses geospatial, satellite, hydrological, and meteorological data to generate flood maps in real-time.  Insurers using the platform can design and offer parametric flood insurance as a part of hurricane coverage, which traditionally has only covered wind damage, to customers with the confidence that clients are protected against the impact of flooding while ensuring they are adequately assessing risk and pricing policies accordingly.  The observations from the company's fifteen satellites are layered to historical and contextual data using machine learning to modernize risk assessment for flood damage. Previously, insurers used static models to assign risk ratings to properties, largely based on regions, resulting in increased risk for insurers and both under and over pricing of policies for consumers.
AlleyWatch caught up with Floodbase Cofounder and CEO Bessie Schwarz to learn more about the business, the company's strategic plans, latest round of funding, which brings the company's funding total to $21.3M,  and much, much more…
Who were your investors and how much did you raise?
Series A, $12 million.
The series was led by Lowercarbon Capital with participation from Collaborative Fund, Floating Point, and Vidavo.
Tell us about the product or service that Floodbase offers.
Floodbase is an end-to-end flood data solution for designing and triggering global parametric flood coverage.
Floodbase's technology integrates satellite-based observations with hydrological and meteorological data, models, and other ground observations to generate seamless, near real-time flood maps that enable profitable flood policy design and automated triggering for the first time ever.
Our most recent announcement includes the rollout of the latest version of our product, which allows insurers to offer a flood parametric layer to hurricane insurance – something that has never been done before. This is important because with increased precipitation in our atmosphere due to climate change, hurricanes are getting slower and more wet, but insurance payouts are based on wind speeds (the category). People in general need more flood insurance today, and Floodbase's tech will enable coverage from damage due to flooding, not just wind damage, during hurricanes.
What inspired the start of Floodbase?
Dr. Beth Tellman and I started Floodbase when we were master's students at Yale University. We both had experience working with communities that are vulnerable to climate change, and saw firsthand how limited data directly impacted inequity and economic hardship due to the effects of climate change.
While at Yale, we built the company – which was then called Cloud to Street – which we ran as a side project to fix disaster aid lists in El Salvador and New York state. Google and other investors funded the company and helped us build out the research.
How is Floodbase different?
Floodbase has the world's largest flood dataset, and can provide flood data every 3 hours. This is impressive accuracy, and the speed increases the temporal frequency on which insurers can provide indexes.
By tapping into more flood data than ever before, Floodbase can provide near real-time flood maps that weren't achievable previously.
Floodbase's data consistency allows insurers to design and price parametric insurance policies that get triggered and paid automatically when a flooding event occurs. Because these parametric policies are based on highly accurate flood monitoring, they can be written to cover more than just physical damages, insuring against other losses related to flooding disasters.
Policyholders get broad, cost-effective coverage with immediate and automatic payouts and, most importantly, peace of mind.
Floodbase is not only enabling the parametric flood insurance industry to form, they are also providing insurers with never-before-had optionality for insurers to layer parametric flood insurance onto their already existing hurricane insurance policies.
What market does Floodbase target and how big is it?
Floodbase's data enables insurers to extend flood coverage to customers who previously had no or very limited-risk protection.
Floods are the most costly natural disasters–causing $80B in economic losses in 2021 alone–but the data around them is the least accessible and least utilized of all disaster types.
Most of the world's economic loss from flooding is not covered due to a lack of data. Swiss Re estimates that 83% of global economic losses from flooding were uninsured in the last decade.
Floodbase allows insurers to accurately underwrite and trigger parametric flood insurance policies with our flood data technology. Our data and expertise enable profitable risk transfer for locations and types of risk that, until now, have been difficult to model and insure—opening up entirely new markets.
Floodbase allows insurers to accurately underwrite and trigger parametric flood insurance policies with our flood data technology. Our data and expertise enable profitable risk transfer for locations and types of risk that, until now, have been difficult to model and insure—opening up entirely new markets.
Parametric flood insurance policies are accessible and easily scalable, extending coverage into remote areas, where indemnity flood insurance might not be able to be implemented.
With the rollout of our latest technology, Floodbase is focusing on adding a parametric flood layer to hurricane insurance policies. Hurricanes are some of the most destructive severe weather events in the United States. For example, Hurricane Ian was the costliest severe weather event in 2022, and inflicted almost $113B in damages.
What's your business model?
Floodbase is a flood data provider for parametric insurance policy providers.
Floodbase is helping over two dozen countries, as well as a number of insurers, reinsurers, and corporates to close the flood data and insurance gap. Floodbase works with some of the world's largest re-insurers to provide data to create cutting edge parametric flood insurance solutions.
Rapidly accelerating climate change requires new technologies and approaches to measuring and forecasting flood events; the insurance industry does not have sufficient data to accurately assign risk to flooding with the technology widely available today. Many of the most vulnerable populations don't have access to risk mitigation tools like insurance, for flooding.
Floodbase's scalable technology provides consistent flood analysis data, regardless of a location's prior monitoring or current visibility conditions. By analyzing decades of historical and near real-time observational data from multiple sources, Floodbase's technology dynamically monitors flood risk in traditionally hard-to-model and insure areas.
How are you preparing for a potential economic slowdown?
Extreme weather does not conform to economic cycles. At a time when consumers are stretched financially, robust flood insurance is more important than ever. Investing into climate adaptation now, saves a lot of money in the future, and the need for our technology and information is growing. Right now, we are focused on growth and expansion.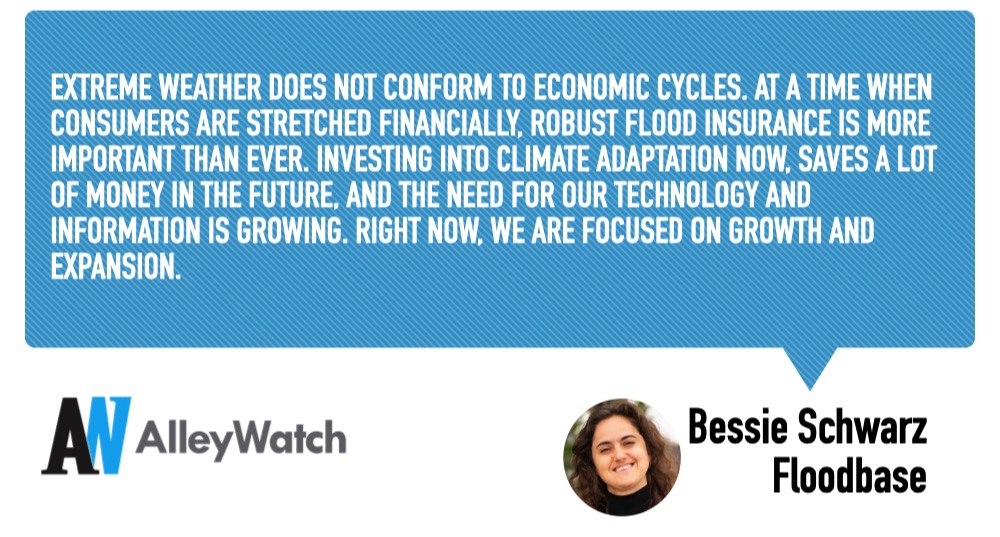 What was the funding process like?
The Series A funding round also coincided with our rebrand, and our hurricane layer rollout. We appreciate all of the support we get through these partnerships and look forward to where this chapter is going to take us.
We plan to use this funding to scale our team and impact – to help us launch our most important features that we've introduced yet, which allow us to provide insurers with the optionality to cover flooding, through adding a parametric flood insurance layer to their hurricane policies.
What are the biggest challenges that you faced while raising capital?
The market was starting to cool as we started our fundraising process, but interest in climate tech startups remained high and we were able to successfully close our round.
What factors about your business led your investors to write the check?
Floodbase is pioneering near real-time flood monitoring by merging diverse data streams to create maps with unprecedented accessibility, scale, and accuracy, anywhere, including areas that lack extensive historical data.
People need more flood insurance, and better data. We've proven that we can fulfill these needs and help close the flood insurance gap. Now all we need to do is deploy our technology everywhere, to help as many people as possible.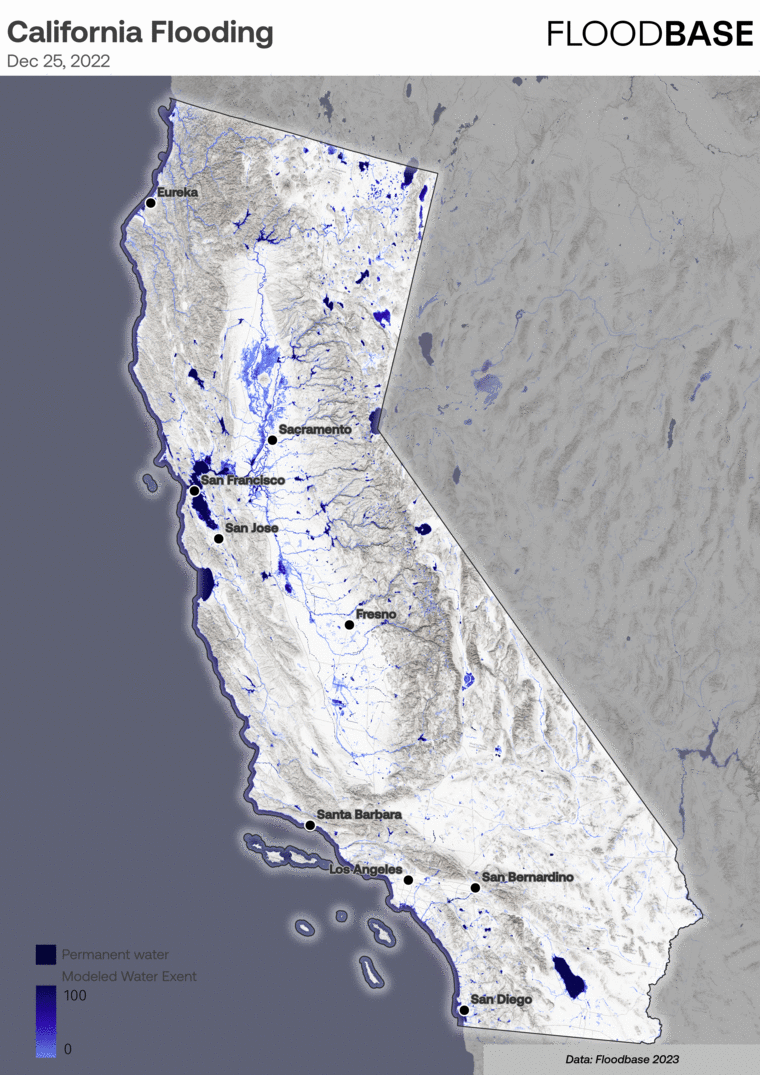 What are the milestones you plan to achieve in the next six months?
Growing our team to build out our expertise, and help deploy our technology far and wide.
What's your favorite restaurant in the city?
Laser Wolf in Brooklyn.
---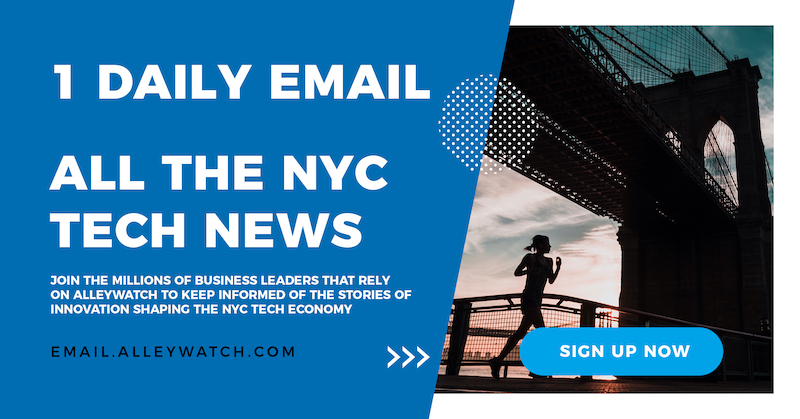 You are seconds away from signing up for the hottest list in Tech!
---