Recent changes to NCAA regulations for name and image likeness NIL have changed the face of college athletics and opened up the floodgates for student-athletes to be compensated for the first time.  Athletes and sports programs are now more concentrated on building monetizable operations while brands are looking to expand their presence in the $19B per year entertainment market that's college sports.  MOGL is a NIL marketplace for brands, athletes, and sports programs to all capitalize on this frontier market and manage this burgeoning opportunity.  While the NCAA has permitted athletes to receive direct compensation, there are regulatory considerations and the platform handles all facets of sponsorship deals from discovery to payment with a strict focus on ensuring compliance while providing robust reporting.  MOGL already has over 1000 student-athletes on the platform connecting with 1500+ brands from local businesses to global brands like Toyota and Under Armour.
AlleyWatch caught up with MOGL CEO and Cofounder Ayden Syal to learn more about the business, the company's strategic plans, latest round of funding, and much, much more…
Who were your investors and how much did you raise?
MOGL announced the closing of an additional $2.6M in Seed financing led by Magarac Venture Partners (MVP) and has raised $5.5M in total funding. Other investors in MOGL include PivotNorth Capital, Penske Media Corporation, Chaos Ventures, Litquidity, Sand Hill Angels, Platform Venture Studio, and professional athletes including All-Pro NFL Safety Minkah Fitzpatrick.
Tell us about the product or service that MOGL offers.
MOGL offers a comprehensive solution for brands and universities looking to benefit from influencer marketing and prosper in the new NIL era of collegiate athletics.
Brands looking to connect with athlete influencers and ambassadors can filter through a wide range of student-athletes, gain access to key insights to enhance their advertising strategies, and directly connect for content, social media promotion, and other valuable activities. The platform saves brands time and effort by generating contracts, providing recommendations, and organizing communication in one place.
Universities use MOGL's software to directly connect their network of sponsors, local businesses, and fans to their student-athletes while providing them with compliance reporting and monitoring capabilities. The software enables their student-athletes to connect to verified NIL deals with the click of a button.
What inspired the start of MOGL?
After both attending school at Notre Dame, Brandon (cofounder) and I recognized that athletes have limited time in their schedule and generally do not have access to the resources they need to monetize their audiences.
MOGL was founded because we recognized that athletes would need a safe and easy solution to connect to opportunities while universities would need software to monitor compliance and connect their network to their student-athletes.
Having played Quarterback for Notre Dame but not legally being able to directly benefit from the platform it provided him, Brandon saw this as an opportunity to give back to the next generation of collegiate athletes.
We founded MOGL in 2019 to provide universities, brands and athletes with an operating system specifically built to foster mutually-beneficial relationships through NIL sponsorships. Months later, California Gov. Gavin Newsom signed into law a bill that enabled college athletes to sign endorsement deals and hire agents while protecting their collegiate eligibility. We leveraged Brandon's college athletic career and my business experience to provide student-athletes with opportunities for financial reward and future professional prospects.
How is MOGL different?
MOGL is different because of its commitment to providing opportunities for all student-athletes regardless of sport, school, and division. Because of our commitment to providing resources and access for all, we are able to provide brands with a far more diverse network of athletes to access to enhance their marketing strategies. Furthermore, MOGL's team of brand partnerships representatives has acquired over 1,500 actively engaged brands on the platform to truly connect athletes to opportunities. MOGL's compliance offering is the most robust in the industry today and the only solution that offers automatic disclosure.
While there are other platforms that provide NIL solutions for student-athletes, none offer the holistic experience that we've created. The MOGL platform democratizes access to athlete influencers and provides universities with an operating system to connect their entire network of sponsors, alumni and fans to their student-athletes while ensuring NCAA compliance through automatically monitoring disclosure requirements. In addition, MOGL is 50% gender diverse and supports women in leadership positions.
What market does MOGL target and how big is it?
In the first year of NIL, student-athletes earned an estimated $917M. Recent reports project that number to grow to over $1.4B in year two as brands, universities and athletes navigate the new NIL landscape. The number of student-athletes competing in NCAA championship sports in 2021-22 jumped to over 520,000, an all-time high, according to the latest data from the NCAA. MOGL targets all student-athletes, regardless of sport, division, race or economic background and facilitates relationships with brands and universities looking to benefit from influencer marketing in the new era of NIL programs.
What's your business model?
MOGL pairs world-class technology with one of the largest student-athlete databases in the country to help brands maximize their marketing spend while increasing brand awareness. By offering access to easy-to-use technology that experienced and responsive professionals support, companies can experience and access a seamless NIL ecosystem leading to an increase in overall engagement, satisfaction, and long-term success. Brands can increase their visibility, reach new audiences, and ultimately boost their sales by building strong brand-athlete partnerships via the MOGL platform.
Universities can access the technology and leverage its capabilities to connect their network to their student-athletes while protecting them through compliance monitoring.
How are you preparing for a potential economic slowdown?
While we recognize that there is market uncertainty and a potential slowdown, the benefit of the services we provide is a scalable and affordable solution for our clients. It helps them achieve ROI in their advertising results, ultimately saving them money.
What was the funding process like?
The funding process was more challenging than we had expected it to be, given the market dynamics and current startup funding landscape. We are pleased to be operating in a space that offers a great opportunity for so many, and to be a leader from a tech perspective, to have secured funding with fantastic partners.
What are the biggest challenges that you faced while raising capital?
One of the biggest challenges we faced was having to explain the intricacies of NIL and the collegiate athletic landscape to VC firms and investors who have had limited exposure to the landscape. While everyone understands how massive the market within NIL is, it was difficult to convey to investors why our technology is so important for universities and student-athletes at times.
What factors about your business led your investors to write the check?
The biggest factor is that because of the tech we've built and its countless varieties of use cases for all, we are truly providing opportunities for all collegiate athletics and capitalizing on the total market potential within NIL. While other participants in the landscape are only serving a specific niche, we are all-encompassing.
What are the milestones you plan to achieve in the next six months?
Over the next six months, specifically over the summer, our plan is to deepen our relationships with current partners and customers and expand our currently available software offerings to universities. Most notably in the next few months, we will be launching a revolutionary fan portal that will directly connect fans to student-athletes in a safe and controlled environment.
Over the next six months, specifically over the summer, our plan is to deepen our relationships with current partners and customers and expand our currently available software offerings to universities. Most notably in the next few months, we will be launching a revolutionary fan portal that will directly connect fans to student-athletes in a safe and controlled environment.
What advice can you offer companies in New York that do not have a fresh injection of capital in the bank?
Search around your network and recognize that capital can come from unusual and unexpected places. New York has a tremendous angel and investment community, but emerging population centers like the midwest and southeast should not be ignored. Speak to your top customers about who they may be able to connect you with because they see and understand the value of your offering better than anyone!
Where do you see the company going now over the near term?
The MOGL mission remains the same, to continue to democratize NIL opportunities for all athletes. However, the opportunity within NIL cannot just be reserved to sponsorships and advertising opportunities. Athletes need to be prepared for life after sport through career readiness and other life skills prep that we plan to support.
What's your favorite restaurant in the city?
Most recently, it's a newly discovered spot, Le French Diner. It is a quintessential New York restaurant that seats 15 people max and offers traditional French cuisine with a great atmosphere. But don't tell anyone on TikTok – I still want to be able to get a table.
---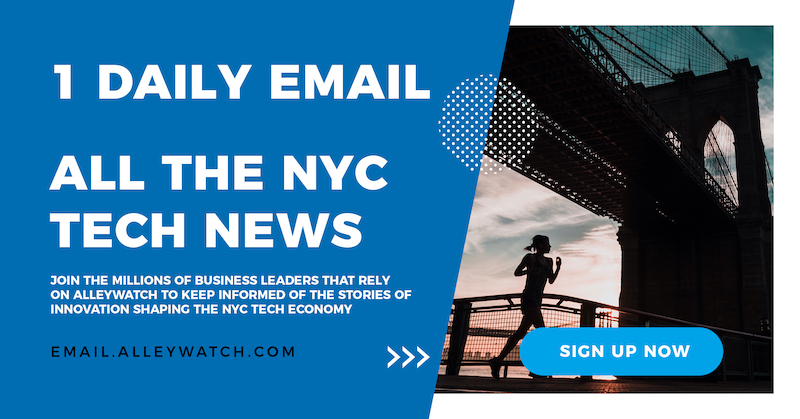 You are seconds away from signing up for the hottest list in Tech!
---