One of the largest challenges facing the healthcare industry that impedes the delivery of quality healthcare is the lack of optimization in clinical workflows.   This challenge also seeps into other aspects of the healthcare system such as reduced patient outcomes, personnel shortages, staff burnout, and lack of interoperability between different systems.  Florence is a health-tech platform that seeks to streamline patient management and patient experience starting with emergency departments.  The patient experience starts with the company's mobile app that serves can collect the typical intake information (insurance, registration, payment, medical history and symptoms, and consent) while patients are on the way to the ER. Practitioners can layer and augment patient data to improve the time for initial assessment and diagnosis while providing patients with real-time updates and instructions.  The platform also handles discharge and subsequent treatment and follow-up plans.  By integrating technology into the workflow, Florence increases clinical capacity in emergency rooms, typically the busiest units in hospitals, leading to increased revenues, reduced administrative burdens, and improved patient outcomes.
AlleyWatch caught up with Florence Founder and CEO Aniq Rahman to learn more about the business, the company's launch and strategic plans, recent round of funding, and much, much more…
Who were your investors and how much did you raise?
We're very excited to announce that we've officially launched after raising a Seed round of $20M led by Thrive Capital, GV, and Salesforce Ventures with participation from Vast Ventures, BoxGroup, and Atento Capital.
Tell us about the product or service that Florence offers.
Our technology solution provides a modern consumer experience while reducing operational overhead, starting with emergency departments to offer patients an experience that rivals consumer-focused industries. Through Florence, patients can track and accelerate their journey via smartphone, update clinical information, control prescription fulfillment, initiate self-discharge, and more, boosting patient satisfaction while increasing clinical capacity.
What inspired the start of Florence?
I'm someone who has always been involved in the venture capital space — I have a portfolio of 100 companies I've invested in, many of which are in healthcare. Prior to starting Florence, I had the honor of serving as the president of Moat, a company that Oracle acquired for $850M back in 2017. After that, I found myself on the lookout for my next challenge, one that would be driven by purpose. However, my plans were unexpectedly interrupted in 2018 when my father called me from an ambulance in the midst of a heart attack. Fortunately, the hospital was able to save his life, but going through that difficult process gave me renewed perspective. While spending time in the hospital with my father, I witnessed firsthand the heroic efforts of healthcare professionals who save lives every day. But I also saw the chaos and dysfunction of the hospital environment, which was largely caused by outdated technology, siloed systems, and bureaucratic red tape.
As a result, I assembled a team with a diverse range of backgrounds, spanning both consumer and enterprise industries, to create experiences that would match the ease and convenience of services like Spotify and Uber for hospitals. Our goal was to improve the experience of the 145 million people who visit emergency departments each year by rethinking how the patient experience was delivered — and Florence was born.
How is Florence different?
Florence is working with leading health systems to address the most significant constraint in care: clinical capacity. At the same time, we prioritize the patient experience, which is particularly crucial in emergency departments since they're often the first stop for patients looking for help. Our approach is rooted in asynchronous care, which is the cheapest and most effective way of delivering high-quality care. With over 10,000 babies born in the U.S. every day, and a growing number of people either needing government assistance for healthcare or being under-insured, there is both a financial and social imperative to improve the healthcare system. By streamlining and improving care capacity, we're not only offering a better patient experience, we're also saving valuable time for nurses and doctors. We're excited to go full force in our mission to make healthcare more efficient, accessible, and patient-centered.
What market does Florence target and how big is it?
We're in the health technology market, which was valued at $142.7B in 2022, and more broadly address the rising cost of care that now totals $4.1T in annual spend.
What's your business model?
Florence is an enterprise software as a service company. We sell technology to healthcare facilities, starting with emergency rooms. We have plans to expand into other sites of care beyond hospitals as well including urgent care, surgery centers, and clinics.
How are you preparing for a potential economic slowdown?
Hospitals and health systems are facing their worst financial year in decades. We are focused on creating real return on investment for our customers in the place they are getting hit the hardest — rising labor costs, staffing shortages, and patient satisfaction in an increasingly competitive market.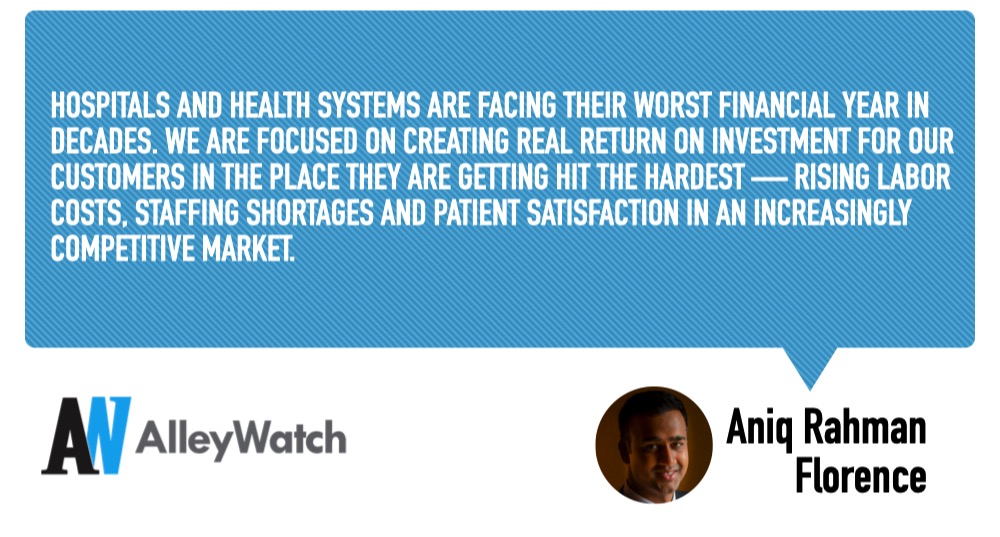 What was the funding process like?
We, fortunately, had built relationships with our investors for years prior, and it was really an efficient process in terms of getting them up to speed with our vision. Josh Kushner and Kareem Zaki at Thrive Capital, who led our round, have been helpful since inception with ideation, customer and talent introductions.
What are the biggest challenges that you faced while raising capital?
Healthcare is a complex and dynamic industry and many venture investors either don't invest actively in the category or take a very narrow lens at the types of deals they will do in the space. Selling software to hospitals in particular is a niche that many VCs avoid due to long sales cycles and complicated integrations.
What factors about your business led your investors to write the check?
Despite the fact that the U.S. has one of the best healthcare systems in the world, it still faces a number of issues ranging from operational inefficiencies to high costs and uneven access to care. Florence seeks to address these issues at their root by introducing new technology and streamlined processes that make healthcare more affordable, accessible, and patient-centered, while also providing much-needed relief to healthcare staff. By prioritizing the patient experience, we have the potential to disrupt the traditional healthcare delivery model and create a more competitive system that can serve as a model for the rest of the world. Many of our investors believe in the same vision of utilizing asynchronous care to deliver a better, more equitable healthcare experience, and we're lucky to be able to work with them.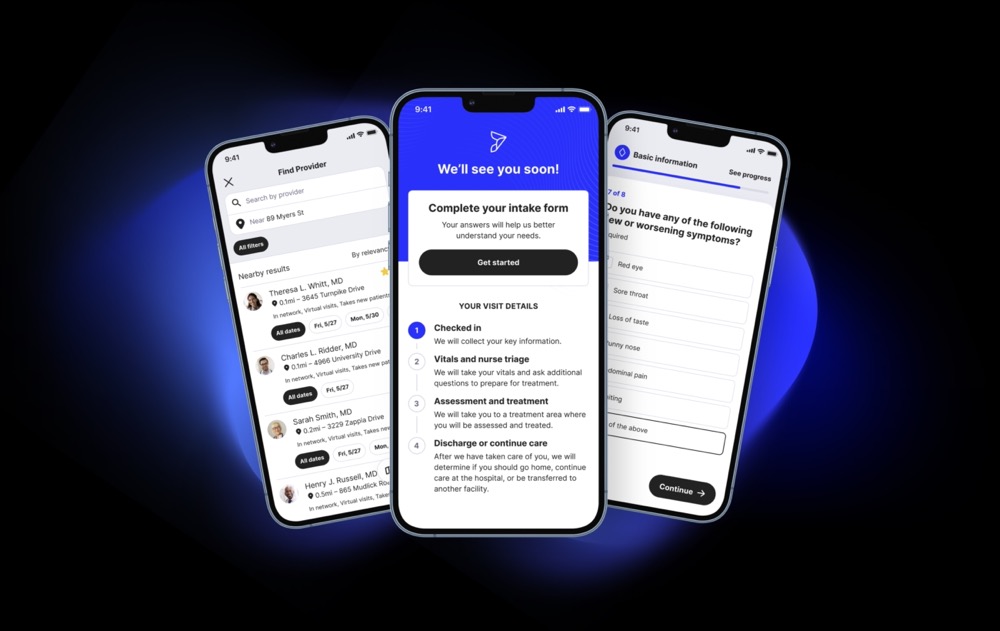 What are the milestones you plan to achieve in the next six months?
For now, we're focused on expanding our reach to additional ERs across the U.S. but hope to continue improving healthcare across a number of specialties in the future, improving healthcare delivery in areas like surgery, oncology, and cancer treatment.
What advice can you offer companies in New York that do not have a fresh injection of capital in the bank?
While it's tougher to raise in this market, there are still lots of investors looking for deals. If venture funds aren't biting, try angel investors, family offices, and foundations that make direct investments.
Where do you see the company going now over the near term?
In our view, local healthcare is often the best approach. Currently, $4T a year is spent on healthcare in the U.S., but only a fraction of that is spent on hospitals. Our biggest goal is to enable hospitals to succeed and compete with the Amazon, CVS, and Walmarts of the world by providing the tools they need to expand their healthcare offerings. We're enabling hospitals to remain competitive by providing the best possible care to patients in the hopes that we can create a more sustainable and patient-centered healthcare system that makes a real difference.
What's your favorite coffee shop or location in the city to hold a meeting?
The cafe in the lobby of Fotografiska — it's a beautiful building and usually a quieter spot. Plus it's nice to support museums while having coffee meetings. I also live in Gramercy, which makes it easy.
---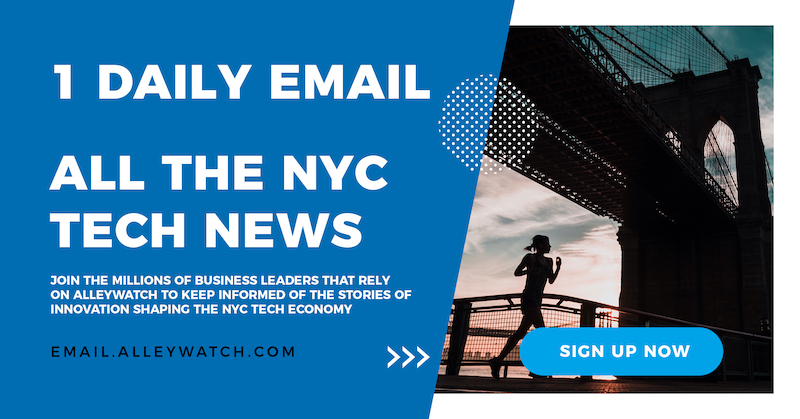 You are seconds away from signing up for the hottest list in Tech!
---