The outstanding student loan debt in the US has exceeded $1.8T.  The cost of college tuition increased by 4.63% annually from 2010 to 2020.  These two factors are causing more and more young adults to reconsider the decision to attend 4-year programs and instead leading them to enroll in vocational schools to master a skilled trade.  The promise of not going into significant debt, the stability of the skilled trades industries, and the increasing associated salaries have all caused an uptick in students enrolling in trade schools across the country. Fynn is a loan financing platform designed specifically for trade school students that empowers borrowers with the opportunity to receive affordable and often life-changing training through affordable financing options.  Financing for trade school education has been traditionally limited from federal programs and Fynn currently works with 150+ vetted and approved programs that have built demonstrable track records when it comes to job placement and graduation rates.  As the pandemic has not only led to a historically tight labor market but also a renewed focus on on-shoring key capabilities, Flynn is ensuring that there's a trained workforce whether in the industrial, construction, or manufacturing fields.
AlleyWatch caught up with Fynn CEO and Cofounder Eric Menees to learn more about the business, the company's strategic plans, latest round of funding, which brings the company's total equity funding raised to $15M, and much, much more…
Who were your investors and how much did you raise?
Fynn announced the close of an $11M seed round and a $25M debt facility. Key investors include Y Combinator, Susa Ventures (Seed in Robinhood & Flexport), Village Global (backed by Gates, Zuckerberg, Bezos, Hoffman), Liquid2 (Joe Montana's fund), Socially Financed (execs at SoFi and other top fintechs), and Tenacity Venture Capital (Ben Narasin's fund).
Tell us about the product or service that Fynn offers.
Fynn is helping Americans pursue skilled labor jobs and reach the middle class through loans for trade school education. By providing student borrowers with financial support from enrollment through employment, Fynn flips the traditional structure of the lending industry on its head by aligning its interests with students and schools. With access to fair and affordable loans, Fynn believes it can support people in their efforts to receive an education that supports long-term financial stability.
What inspired the start of Fynn?
I grew up supported by a mother working in the trade space, and some of my closest friends graduated high school in Houston and then went on to pursue trade careers. I know firsthand how valuable these careers are to individuals and to the country. I also know how difficult it is for millions of Americans to afford these training programs. I started Fynn because I believe students' access to education shouldn't be constrained by their financial history.
How is Fynn different?
Unlike most traditional private student lenders, Fynn is invested in the student's long-term success and has member benefits designed to help recent graduates minimize stress and stay on track with payments as they start their careers. Fynn provides three major built-in benefits unique to their loan: income protection, payment pauses, and loan forgiveness. These benefits are designed to help students weather unexpected financial hardships and pay off their loans without worry.
What market does Fynn target and how big is it?
Millions of students are trying to pursue skilled labor careers, only to be held back by their financial circumstances. With limited direct federal financial aid to many trade schools, many give up. Fynn makes it possible for students to get the training needed to join the skilled workforce and close the labor gap.
As recent high-school graduates look to further their academic career, many discover that because they have not had the chance to build credit, they are deemed credit invisible. As a result, they find it hard to get a loan, especially one best suited to their financial needs. Fynn can accept many applicants that other lenders reject due to the inclusion of future career potential during loan evaluation. Fynn partners with high-quality schools that have rock-solid graduation and job placement rates training for in-demand trades, so that we can include future potential into a students' application evaluation to look at credit-invisible students.
What's your business model?
Fynn currently provides loans to 150 different programs across the U.S., helping students at high-quality trade schools like Heartland Welding Academy and The Medical Institute of Kentucky. By partnering with schools that have rock-solid graduation and job placement rates, Fynn can incorporate future potential into lending decisions, which gives credit-invisible students a fair chance. Since launching its flagship product in July 2022, Fynn has provided over $4M worth of financial assistance to students in need.
How are you preparing for a potential economic slowdown?
What's compelling about the trades is that they are extremely resilient in times of economic downturn. Many skilled labor jobs are essential jobs that America's infrastructure cannot do without – truck drivers ensure that essential goods like food and medicine are delivered and trash is picked up, while nurses and medical assistants keep people alive in our hospitals. It doesn't matter how bad the economy gets – if your house is flooding, you call a plumber.
What was the funding process like?
Funding is always a long process, whether you are searching for investors or evaluating and negotiating options. We were lucky to have access to the YC network and to find investors who shared our ethos and our vision for the future. We have incredibly supportive investors who have continued to believe in us and our mission at every step and who have backed that belief with capital.
What are the biggest challenges that you faced while raising capital?
Funding in this environment is always a challenge. We are fortunate to have built a fintech company on the deep, long-standing supply and demand imbalance in the trades and not on short-term access to cheap capital. When that low-interest rate environment disappeared, we stood out to investors as a company with a rock-solid business model. Despite this advantage, a lot of investors still distanced themselves from any fintech companies.
What factors about your business led your investors to write the check?
Ultimately, investors wrote us a check because they had a strong belief in revitalizing the trades and the middle class or were excited to back a company that is doing good while still making a profit. They also appreciated that our business model was not dependent on temporary market conditions.
What are the milestones you plan to achieve in the next six months?
Our plan for 2023 is to expand Fynn's services across the United States and to support students looking to further their education. Our next steps are to build out a suite of product offerings so that, for every student who applies, we can offer some kind of financial product to help them pay for their training.
What advice can you offer companies in New York that do not have a fresh injection of capital in the bank?
Cut your burn as much as possible. Narrow down your scope and build the bare minimum to get enough traction to raise your next check. Continue talking to investors on a regular basis so you ensure you are building that traction in the right direction. I've seen too many companies desperately maximize a KPI that ends up being unimportant to the next round's VCs.
Where do you see the company going now over the near term?
Our plan for 2023 is to expand Fynn's services across the United States and to support students looking to further their education. Our next steps are to build out a suite of product offerings so that, for every student who applies, we can offer some kind of financial product to help them pay for their training.
With a plethora of commuting options in the city, how do you typically get to work each day?
I'm a big fan of public transit, so I usually take the J and walk to the office.
---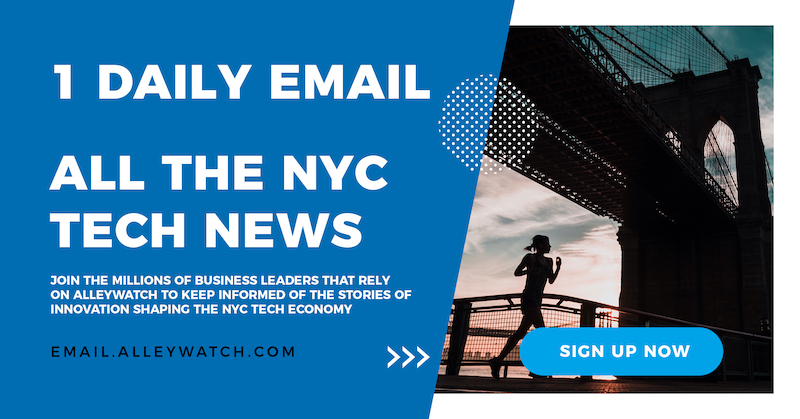 You are seconds away from signing up for the hottest list in Tech!
---