Federally Qualified Health Centers (FQHC) are crucial to providing primary care.  They reduce the barriers to healthcare for millions of Americans in underserved communities by providing access irrespective of cost, insurance coverage, language, and proximity. These community health centers are governed by the federal government, qualify for Medicare and Medicaid reimbursements, and they've been propelled by the Affordable Care and Recovery Acts.  Yuvo Health provides the technology and infrastructure to manage the administrative and managed care functions of these FQHCs.  There's been a growing trend towards value-based care and with the platform, community health centers are able to embrace this new model by handling contracting with payors to deliver preventative, rather than reactive care.  This ultimately leads to better patient outcomes, increased quality of care, and optimized spending.  FQHCs serve more than 30M individuals per year or slightly under 10% of the US population.
AlleyWatch caught up with Yuvo Health CEO and Cofounder Cesar Herrera to learn more about the business, the company's strategic plans, latest round of funding, which brings the total funding raised to $27.5M, and much, much more…
Who were your investors and how much did you raise?
We've raised an oversubscribed $20.2M Series A round of financing. Led by Mastry Ventures, with participation from previous investors including AlleyCorp, AV8 Ventures, and New York Ventures, and new investors including HLM Venture Partners, Route 66 Ventures, VamosVentures, and Social Innovation Fund.
Tell us about the product or service that Yuvo Health offers.
Yuvo Health partners with health centers to leverage new payment systems, scalable infrastructure, and partnerships to offer a meaningful seat at the table within the value-based care (VBC) ecosystem. In doing so, health centers gain the freedom — and the incentives — to provide compassionate care for their entire community.
What inspired the start of Yuvo Health?
Launched in January 2021, Yuvo Health was founded in New York City by a fully BIPOC team with shared first-hand experiences of the power of quality care, and a common goal to bring fair, quality care to underserved communities. The entire Yuvo Health team is now on a mission to ensure every Community Health Center (CHC) can provide compassionate care to their entire community.
How is Yuvo Health different?
Yuvo Health is specifically tailored for Federally Qualified Health Centers (FQHCs) and their unique needs. And, unlike many other "value-based care enablement" solutions out there, Yuvo Health uniquely takes its model a significant step forward by actually bearing the full downside risk for our FQHC partners.
What market does Yuvo Health target and how big is it?
Yuvo Health supports CHCs and FQHCs that provide primary care to underserved communities in the U.S. The 1,400 FQHCs nationwide serve more than 30 million patients annually, representing more than $30 billion in revenue. That said, policy reports have shown an opportunity for FQHCs to serve an additional 20 million who still don't have access to primary care across the country.
What's your business model?
Yuvo Health acts as a risk-bearing entity for FQHCs. When we partner with FQHCs, we agree to shoulder the downside risk for them. We then contract directly with health insurers across all lines of business (Medicaid, Medicare, Commercial) for various risk arrangements. By opening up this additional revenue stream, we not only fuel our own growth, but establish financial growth and stability for our FQHC partners, as well.
How are you preparing for a potential economic slowdown?
Healthcare, particularly Medicaid and Medicare, is counter-cyclical to the economy. This typically means more enrollment in Medicaid, for instance, and increased financial pressure on States to manage cost. As such, there is greater opportunity for our FQHC partners to participate and demonstrate their value in this ecosystem.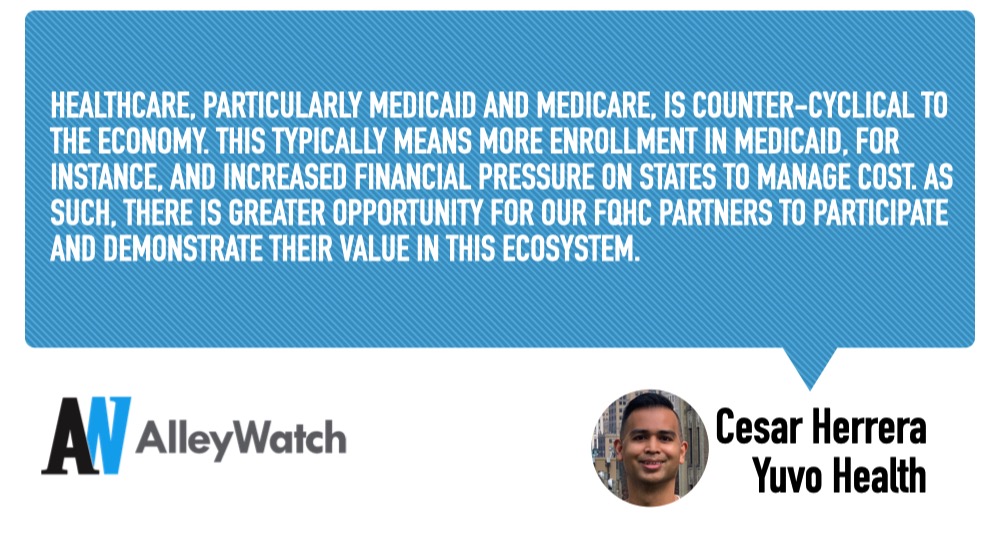 What was the funding process like?
The funding process definitely took longer than our last one. Our seed round took about a month to close, whereas our Series A took around five months. FOMO wasn't as much of a factor for investors we had talked to, and as such, they were spending extra time to be more thorough in their diligence. It was certainly a double-edged sword: The prolonged period meant more time away from our company's day-to-day operations. However, the due diligence also meant investors were asking the right questions and took time to really understand the business. Additionally, I had more time to vet investors and understand the additional value they could provide. As a result, I'm much more confident in the value associated with those on our cap table, which is a great feeling.
What are the biggest challenges that you faced while raising capital?
Frankly, we are trying to solve an incredibly complicated problem (value-based care) in a frequently forgotten segment (FQHCs) of a complex, regulated market (healthcare). There are few corollaries to which investors can meaningfully compare us. Meaning, we're not the "Uber" or "Airbnb" of healthcare. On top of that, we don't have a predictable SaaS ARR revenue model, which has been difficult for investors to grapple with.
What factors about your business led your investors to write the check?
Based on feedback from our investors, the most compelling factors were a combination of the following:
Our practical, pragmatic solution
Undeniable market need. FQHCs would need to access a specific and meaningful revenue stream (VBC) without Yuvo Health.
Our talented team. We have an unparalleled team, with multiple decades of directly relevant experience in this space.
Deep connection to our mission.

Many of us have direct, lived experience being FQHC patients ourselves, and many others have experience serving FQHCs and their patients. This isn't just a business for us, but rather a deeply personal mission to support FQHCs and their patients.
What are the milestones you plan to achieve in the next six months?
With this capital, we are focused on building the technology and population-health infrastructure to support our transition to global capitation.
What advice can you offer companies in New York that do not have a fresh injection of capital in the bank?
If you are about to raise capital in this market and/or sell to customers, make sure you show that your product is a "need-to-have" versus a "good-to-have" for your audience. Also, remember that venture capital is not the only vehicle available to fund your growth and development, so be creative (e.g., venture debt, line of credit, government programs wherever relevant).
Where do you see the company going now over the near term?
We'll leverage this investment to expand from the New York market into Ohio (and beyond), while also transitioning to accept full-risk arrangements on behalf of our FQHC and CHC partners.
With a plethora of commuting options in the city, how do you typically get to work each day?
I am blessed that our office is only a few blocks away from my apartment. And given that I prefer to be above ground, you will either see me walking to work, taking the cross-town M23 bus, or relying on a trustworthy Citi Bike wherever I need to go, rain or shine or through the bitter cold.
---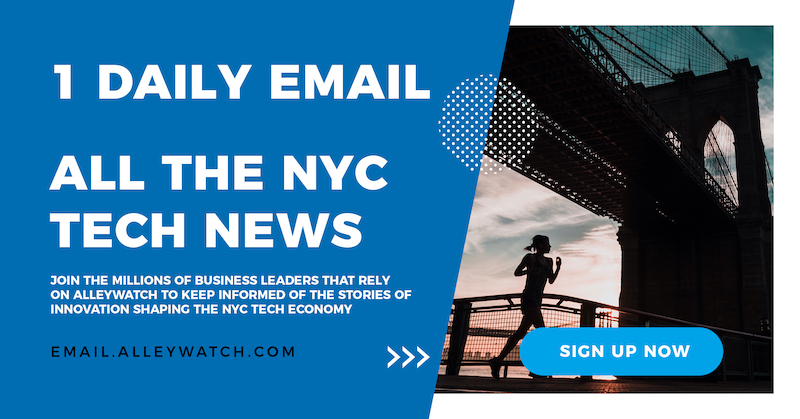 You are seconds away from signing up for the hottest list in Tech!
---