1 out of 10 American adults or 26M people are "credit invisible", meaning they have no credit history with the major scoring bureaus.  Another 21M are considered unscorable.  Many of these individuals are newcomers to the US and these people face challenges accessing credit no matter how their credit was in their native countries, creating a Catch-22 situation where they can't access credit because of a lack of credit history, and in turn, many then rely on onerous borrowing schemes, which can negatively impact credit.   Nova Credit is an alternative credit data analytics platform that accesses cross-border credit data and other non-traditional data points to create a profile of creditworthiness for consumers. Through its Credit Passport engine, the company helps borrowers access credit through US credit cards, mobile plans, auto loans, and student loans using their foreign past histories.  Businesses can leverage Nova Credit's Cash Atlas™ platform to formulate loan decisioning by accurately tracking an applicant's income and cash flow.  The company's data capabilities allow it to synthesize data points globally so its solutions also are effective outside of the US market to make credit accessible for consumers worldwide.
AlleyWatch caught up with Nova Credit CEO and Cofounder Misha Esipov to learn more about the business, the company's strategic plans, latest round of funding, which bring the company's total funding to $124.4M, and much, much more…
Who were your investors and how much did you raise?
Nova Credit raised $45M in Series C funding. Canapi Ventures led the round and new investors include Geodesic Capital, Harmonic Growth Partners, Radiate Capital, and Socium Ventures (Cox Enterprises). Existing investors also joined the round, including General Catalyst, Index Ventures, Kleiner Perkins, Y Combinator, and Avid Ventures.
Tell us about the product or service that Nova Credit offers.
Nova Credit is a data analytics company that helps businesses grow responsibly through alternative credit data. The company does this by leveraging its unique set of data sources, bank-grade infrastructure and compliance framework, and proprietary credit expertise to help lenders fill the gaps that exist in traditional credit analytics. Nova Credit serves as the bridge between data and credit excellence, providing a comprehensive suite of solutions designed to give lenders a competitive edge in the open finance era.
The company offers two products that help businesses make more fair and informed decisions on millions of 'thin file', no credit history, and new-to-country applicants:
Credit Passport® unlocks cross-border credit bureau data to help businesses underwrite new-to-country newcomer populations.
Cash Atlas™ provides greater insight into the cash flows of any applicant, including verifying their income with greater precision than alternatives.
Businesses use these products to approve more applicants without taking on unnecessary risk, and consumers are empowered to put their best foot forward in their applications.
What inspired the start of Nova Credit?
For me, the problem facing newcomers around the world was personal. When my family immigrated to the U.S. from Russia, we quickly realized how difficult it was to build a life in the U.S. without credit history, and how a lack of access to credit products stood in the way of opportunity. Many years later, as graduate students at Stanford University, my cofounders and I discovered that the very same problem was still rampant, and no one had tackled it. As a result, Nova Credit was founded to help immigrants overcome the obstacles of applying for things like apartments or loans with no credit history in the U.S.
How is Nova Credit different?
For more than seven years, Nova Credit has built data pipelines into credit bureaus around the world, seamlessly translating a range of data schemas, attributes, and scores into FCRA-compliant reports for lenders to reach new-to-country populations—opening a world of two billion customers worldwide. Nova Credit is the only company in the world with these data sources and capabilities. Along the way, we built a proprietary analytics layer that helps credit professionals extract value from new data sources, all within a compliance framework that meets the regulatory and security standards of premier financial institutions. Today, Nova Credit has developed the world's foremost expertise in data connectivity, standardization, analytics, and compliance required to unlock the power of open finance to benefit a broader base of consumers and lender use cases.
What market does Nova Credit target and how big is it?
The US will grow by 40 million people in the next 3 decades, nearly 100% of that growth will come from newcomers. In addition, more than 60 million thin and no credit file consumers in the US are left behind by the current credit system, but those consumers can now be scored using their bank transactions using Cash Atlas. Importantly for our partners, any US consumer with a checking account can be underwritten with transaction data, even if they already have a credit score – cash flow underwriting easily supplements existing credit data for a deeper view into an applicant's creditworthiness.
Outside the US, the newcomer market is equally important and growing. UN population estimates indicate 1 in 30 people around the world – 281 million – are immigrants, with the primary driver for population growth in many countries being solely from immigration.
The UK is home to ~10M foreign born individuals, with more than 1 in 7 residents foreign born.
Canada's population will grow by ~12M over the next 3 decades, and it is estimated that 100% of the growth will come from newcomers. Canada aims to grow population to 100 million by 2100 – with a significant amount from immigration.
The UAE's population will grow by ~2M over the next 3 decades, 80% of the growth will come from newcomers
What's your business model?
Nova Credit offers Software-as-a-Service (SaaS) and Data as a Service (DaaS), charging partners for access to its infrastructure and platforms as well as consumption of data and analytics from different data sources.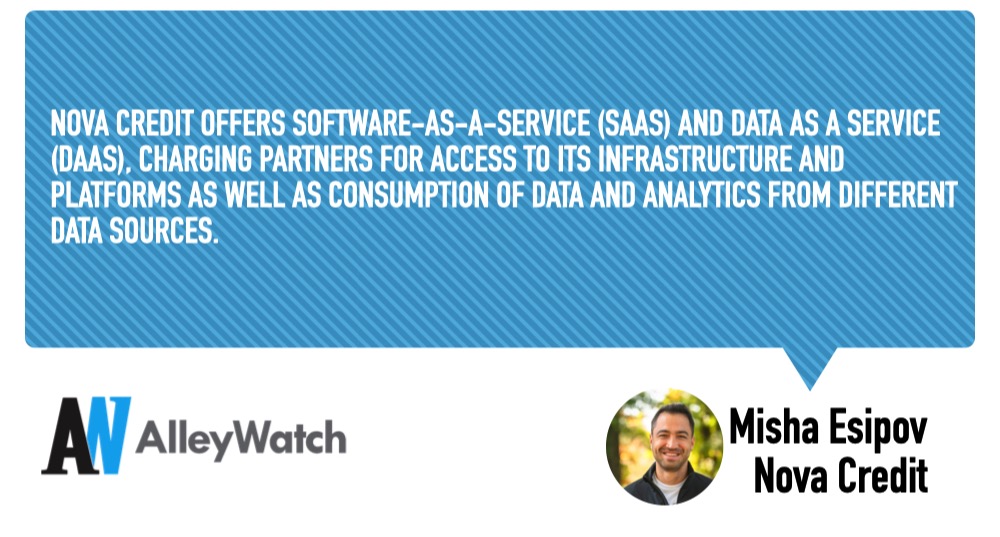 What was the funding process like?
We ran a fast and efficient fundraising process where we received multiple offers from a great group of partners we're excited about.
What factors about your business led your investors to write the check?
Jeffrey Reitman, General Partner at Canapi Ventures, shared that he was initially attracted to Nova Credit based on the high-quality leadership team and the ambitious mission to enable newcomers and thin-file consumers the ability to have fair access to financial products. This was coupled with the fact that there were no other companies building in this space, which was driven by the sheer difficulty of constructing credible supply-side credit data integrations with international bureaus and distributing that data to large financial enterprises. Canapi first invested in the company alongside Kleiner Perkins in the Series B in late 2019, and at the time, was very excited about the traction Nova was getting with several large financial institutions like American Express. Fast forward almost 4 years later and the commercial traction has shown explosive growth. The trust that Jeffrey was able to build with this management team over the years, mixed with the real market fit across the Credit Passport and Cash Atlas products, made Nova a clear candidate for Canapi to double down by leading the Series C. Many of Canapi's banking LPs are in active dialogues with Nova Credit to leverage their products to better serve their customers and that also nicely aligns with the mission here at Canapi.
What are the milestones you plan to achieve in the next six months?
This capital will allow us to further broaden our product offering beyond cross-border credit reporting, which Nova Credit is historically known for, and scale our Cash Atlas product to serve all consumer segments. Specifically, we plan to introduce a whole new range of solutions that enable more growth – from new-to-credit and thin-file underwriting to customized KYC and verification solutions, a 60m+ consumer opportunity in the US alone. This expansion will allow partners to grow within risk appetite by incorporating an expanded suite of open finance data pipelines, unique datasets, and category-defining analytics and compliance applications.
What advice can you offer companies in New York that do not have a fresh injection of capital in the bank?
Expand your network – New York is arguably the epicenter of connections, with various titles, industries, and verticals all within close proximity. Much of Nova Credit's success can be attributed to the network of supporters we have built, and we continue to build that network year-over-year.
Stay the course – we went through a challenging few years, but through perseverance and building an exemplary team and suite of products, we've made it to the other side stronger than ever.
Where do you see the company going now over the near term?
While cross-border credit remains critical to our strategy, we're excited to broaden our offering and tackle a new set of industry challenges long unsolved. This new capital fortifies our position to continue being a dependable partner to the many banks and lenders we serve and accelerates the pace of innovation.
What's your favorite fall destination in and around the city?
I grew up in the Princeton area and always loved going to Grounds for Sculpture in the fall.
---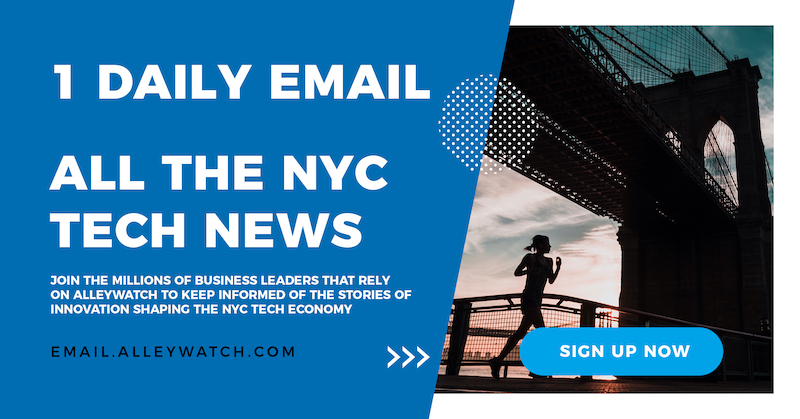 You are seconds away from signing up for the hottest list in Tech!
---