The use of medical imaging in healthcare started to soar in the mid-1990s and this rapid growth has sustained to the present day.  However, this added volume of work would not be manageable without complementary technologies that allow radiologists to handle the workflow of interpreting diagnostic results.  AI is now the next technology that is transforming the landscape to introduce unprecedented efficiencies and diagnostic capabilities powered by data.  Covera Health is an AI-powered diagnostic technology startup focused on the measurement of radiology performance across various providers, serving as a two-sided marketplace for vetted providers while also unlocking insights to improve diagnosis.  For the first time, the industry has a resource to measure the quality of radiology services from a quantitative perspective, focusing on both the quality of an imaging center and the caliber of the interpretations.  With the ability to provide such a wholly encompassing purview, Covera is useful to a gamut of stakeholders in the healthcare ecosystem including providers, payers, and obviously, patients. 60-80% of interpretative errors in the practice of radiology involve perceptual errors; Covera's AI-enabled technology can minimize the possibility of such errors, leading to better clinical outcomes and patient care while reducing the stress on providers.
AlleyWatch caught up with Covera Health CEO and Cofounder Ron Vianu to learn more about the business, the company's strategic plans, latest round of funding, which brings the company's total funding raised to $84.9M, and much, much more…
Who were your investors and how much did you raise?
We announced up to $50M in an additional Series C funding round led by Insight Partners, of which $25M is committed today.
Tell us about the product or service that Covera Health offers.
Covera Health is the leading AI-enabled diagnostic technology company focused on radiology performance measurement and impact. Working with some of the nation's largest payers and health systems, Covera Health serves as the industry's first two-sided marketplace to drive quality performance and ensure patients receive the highest quality radiology care. Covera Health also understands the value of radiology goes well beyond the delivery of a diagnosis. By unlocking AI-powered insights and value to support the broader healthcare ecosystem, Covera Health enables payers, providers, and other stakeholders to leverage diagnostic imaging in new ways to transform patient care. For example – say you go in for a CT scan of the chest to evaluate pneumonia, but the study shows additional information about your bones that your doctor wasn't looking for, and that the radiologist didn't evaluate. AI capabilities are able to unlock these undiagnosed conditions visible but not documented on routine scans.
What inspired the start of Covera Health?
I have witnessed firsthand, through friends and family, how medical errors can alter a patient's chances of recovery. Radiology often forms the bedrock of a patient's diagnostic workup, wielding a significant influence on their care trajectory. Yet, a common oversight is that, like any other medical field, radiology faces quality challenges. This oversight has largely commoditized the field, with price and convenience often overshadowing quality in the selection of providers. The reality is, the choice of imaging center and the radiologist interpreting your study can markedly affect the accuracy of your diagnosis. For us, addressing this issue represents one of the most meaningful and impactful endeavors we can pursue.
How is Covera Health different?
Today, there is no universal way to define and measure the quality of radiology care. Without quality standards and a path to improvement for radiologists, people will continue to suffer from misdiagnoses and radiology will remain commoditized. Establishing quality standards is a fundamental step in reducing these misdiagnoses and ensuring appropriate downstream care. Covera Health is the first company to measure and report on quality in radiology at scale and to deliver a feedback loop that supports radiologists in their efforts to engage in quality improvement and peer learning, while helping employers and plans build and manage quality programs to improve patient outcomes and reduce costs related to misguided care paths.
What market does Covera Health target and how big is it?
There are over 30,000 diagnostic radiologists and 700 million diagnostic imaging exams performed every year in the United States, yet misdiagnoses happen regularly. Over $130B is spent annually on imaging and no one is solving this problem. In 2019, we announced a quality collaboration program with Walmart, the largest employer in the country, to improve diagnostic quality for their employees and family members. In 2022, we launched a nationwide radiology quality improvement program with Nuance, and have since built a two-sided marketplace for providers and plans. Today, we currently manage radiology quality at over 1,000 sites across the country.
What's your business model?
Covera Health is the industry's first two-sided marketplace dedicated to drive quality performance and ensure patients receive the highest quality radiology care. We work with stakeholders across the board to elevate the role of radiology in the healthcare system. We help plans and employers unlock new insights into population health by identifying undiagnosed diseases and opening up new opportunities to intervene and provide proactive, cost-effective care. We help radiologists utilize AI tools to measure and improve the quality of their work and demonstrate their value. And we help other healthcare stakeholders engage patients at the right point in their care journey to get the right diagnosis, the first time.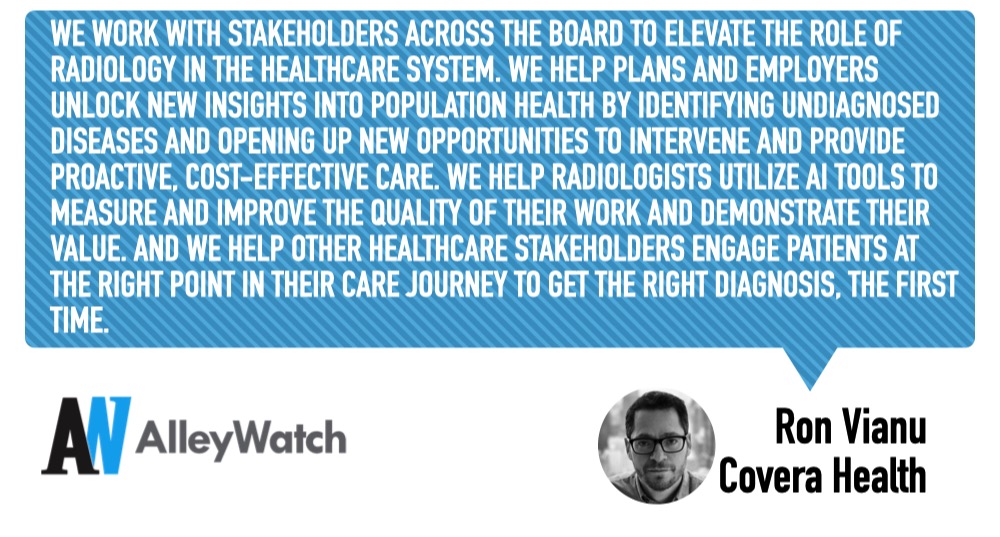 How are you preparing for a potential economic slowdown?
Whether great economic times or bad, we need to use resources wisely to deliver value to the stakeholders we serve.
What was the funding process like?
Insight Partners has been a long-time partner. They know us and our story, and have a deep belief in our thesis, that quality matters. They've followed our trajectory and the traction we've made to date, and so they were in a perfect position to invest in us once again.
What are the biggest challenges that you faced while raising capital?
We were incredibly fortunate to have a partner like Insight who is committed, supportive and able to share our vision for what Covera can accomplish.
What factors about your business led your investors to write the check?
Continued market traction, demonstrating the value that we can deliver to providers, payers and patients.
What are the milestones you plan to achieve in the next six months?
This additional funding will be used to further build out our AI capabilities and accelerate our go to market efforts with plans and employers, both of whom are excited about how they can better partner with their radiology network, support quality improvement and unlock additional population insights to drive better outcomes and lower total cost of care.
Today, we manage radiology quality at over 1,000 sites across the country and have prominent self-insured employers like Walmart who are utilizing Covera Health's quality insights and reporting.
What advice can you offer companies in New York that do not have a fresh
injection of capital in the bank?
Find ways to deliver incremental value to achieve the next milestone. In the world of start-ups, continuously demonstrating the value of your efforts and the impact you can have is critical.
Where do you see the company going now over the near term?
Right now, we're focused on enhancing our existing AI capabilities, augmenting and deploying more tools, and engaging more providers to participate in our quality programs.
What's your favorite fall destination in and around the city?
The Little Red Lighthouse in Fort Washington Park.