From a productivity standpoint, building, maintaining, and updating development environments is an arduous task for software teams.  Containerization, where elements of applications are pre-bundled into a single image, has helped alleviate some of these challenges.  Daytona is taking it one step further with its management platform for self-hosted, secure, and standardized development environments.  The platform simplifies the creation and ongoing maintenance of secure environments, introduces automation for new project branches, and facilitates collaboration between different team members in real-time. It's been described as similar to Github's Codespaces but self-hosted. Daytona is currently in closed beta with a growing waitlist.
AlleyWatch caught up with Daytona CEO and Cofounder Ivan Burazin to learn more about the business, the company's strategic plans, recent round of funding, and much, much more…
Who were your investors and how much did you raise?
$2M. It was a Pre-Seed round, we purposefully aimed for backing from seasoned founders and operators at the core of the developer tool sector, whose names are associated with the tools you likely use daily.
Abhinav Asthana (Founder of Postman)
Charity Majors (Cofounder of Honeycomb)
Christian Bach (Cofounder of Netlify)
Paul Copplestone (Cofounder of Supabase)
Prashanth Chandrasekar (CEO of StackOverflow)
Luke Kanies (Founder of Puppet)
Cassidy Williams (CTO of Contenda)
Milin Desai (CEO of Sentry)
Moataz Soliman (Cofounder of Instabug)
Shawn Wang (Founder of smol.ai)
Zach Lloyd (Founder of Warp)
Tell us about the product or service that Daytona offers.
Daytona is a self-hosted "Development Environment Management" platform that simplifies creating standard and secure development environments, automates setup on new project branches, and facilitates sharing among team members. It is designed to be compatible with any IDE & GIT provider, following industry standards like Dev Container.
What inspired the start of Daytona?

Daytona was inspired by a 14-year history in the Cloud Development sector, starting with a project called PHPanywhere, which evolved into Codeanywhere. The founders' history in this sector and deep understanding of consumer needs and challenges in this sector led to the creation of Daytona.
How is Daytona different?
Daytona offers functionalities similar to GitHub Codespaces but adds the benefit of being self-hosted on an organization's own infrastructure.
What market does Daytona target and how big is it?
Daytona targets the enterprise sector, focusing on companies where self-hosted environments are crucial.
What's your business model?
Daytona's business model is per seat per month licensing.
How are you preparing for a potential economic slowdown?
In anticipation of an economic downturn, Daytona positions itself as a crucial tool for maintaining and enhancing Developer Velocity, which is a critical metric for operational efficiency in challenging economic climates. Additionally, Daytona introduces High-Density Workspaces, a feature that significantly reduces cloud development workspace costs for companies by 2 to 10 times compared to competitors, offering substantial savings.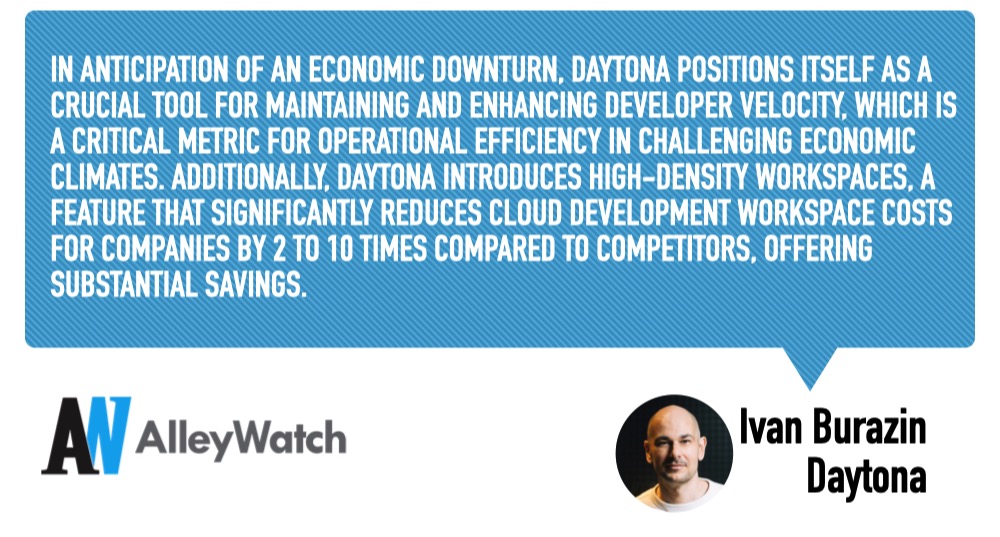 What was the funding process like?
The fundraising journey was very strategic, as mentioned focusing primarily on experienced founders and operators in the developer tools sector. We started by crafting a wishlist of potential investors—some I had previous connections with, while others were new contacts.
Leveraging my network, we quickly secured the first 30% of our target. The subsequent 50% was much harder and took more effort and time, but after reaching 80% of our goal, we started to get a lot of inbound. The interest then was so strong that we blew past our expectations and eventually had to cap our round at $2 million, even having to turn interested investors away.
What factors about your business led your investors to write the check?
I assume investors were likely influenced by Daytona's history of the cloud development sector by the team and with that, the deep-rooted understanding of the customer and market. Additionally, the potential for Daytona to become an industry-standard in Development Environment Management.
What are the milestones you plan to achieve in the next six months?
Mainly, doubling our customer base, along with product updates.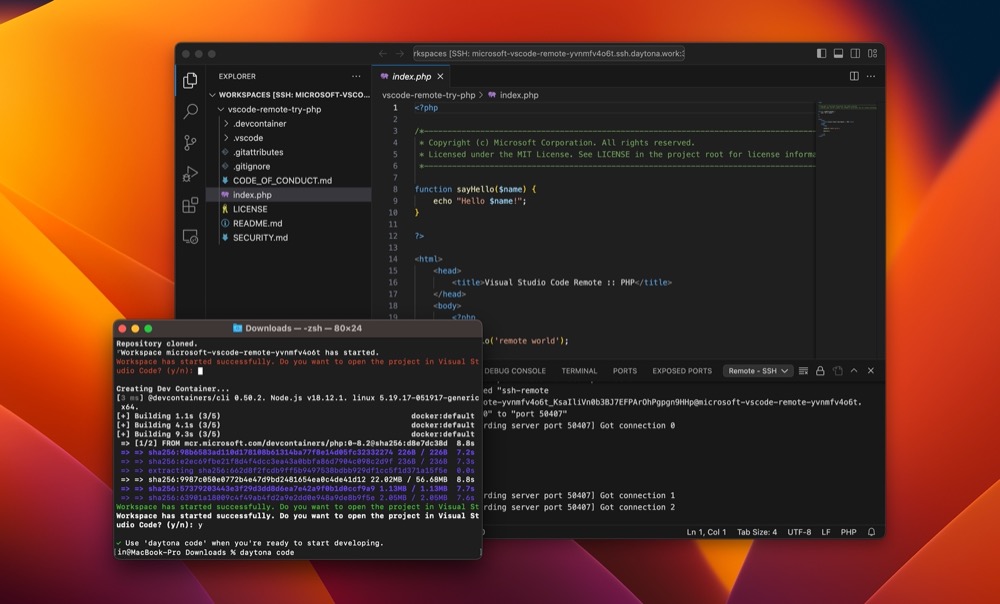 What advice can you offer companies in New York that do not have a fresh injection of capital in the bank?
Keep your customers happy. Of course, watch costs, but I believe this is key.
Where do you see the company going now over the near term?
Daytona is focused on becoming an industry-standard in Development Environment Management, starting with the enterprise sector. There is nothing else currently.
What's your favorite fall destination in and around the city?
I love going for a run in Central Park, especially in the fall. The autumn colors create this perfect backdrop for a run, and while I usually exercise at home, there's something special about being outdoors during this season.
---
The AI revolution has already begun to rewire Wall St, and its impact has been strongly felt in one growing market in particular. Because, thanks to a Harvard data scientist and his crack team, everyday people can now benefit from a previously "off-limits" investment.
The company that makes it all possible is called Masterworks, whose unique investment platform enables savvy investors to invest in blue-chip art for a fraction of the cost. Their proprietary database of art market returns provides an unrivaled quantitative edge in analyzing the art market.
With all 16 of its exits, Masterworks has achieved a profit, with recent exits delivering +17.8%, +21.5%, and +35.0% annualized net returns.
Intrigued? Alleywatch readers can skip the waitlist with this referral link.
Investing involves risk and past performance is not indicative of future returns. See important Reg A disclosures and aggregate advisory performance at masterworks.com/cd
---