There are over 46M Americans over the age of 65 in the United States.  With aging, this segment is more likely to be susceptible to chronic illness, often leading to independence and mobility issues.  There are over 30,600 facilities in the US to cater to this growing segment of the population.  These facilities have traditionally used very little technology in their operations and if technology is being used, it's typically a collection of disparate stacks.  Sage is an unified care coordination platform built specifically for the management of senior living communities  The platform focused both on improving care and the experience of patients while also streamlining the responsibilities of caregivers. With just a smartphone, caregivers are able to manage incident reports and coordinate care. Sage also offers robust analytics capabilities, allowing the operators to unlock the ability to data-driven decisions.  The platform is currently being used across hundreds of facilities and the early returns are impressive; Sage facilities are reporting an up-to 50% improvement in response times, 50% increase in satisfaction among patients, and improved retention of caregivers.
AlleyWatch caught up with Sage CEO and Cofounder Raj Mehra to learn more about the business, the company's strategic plans, latest round of funding, and much, much more…
Who were your investors and how much did you raise?
Sage raised $15M in Series A funding led by new investor Maveron. The round also includes all major investors including Goldcrest Capital, ANIMO Ventures, and Distributed Ventures. Natalie Dillon, partner at Maveron, will be joining the Sage board of directors as the first outside board member. This latest investment brings the total capital raised by Sage to $24M, following $9M in seed funding last year.
Tell us about the product or service that Sage offers.
Sage is reinventing care for older adults through its unified care coordination platform, a modern interface, integrated into senior living community operations, that consolidates the tools caregivers use – from pagers to pull cords to Excel sheets – to streamline communications and provide more informed, productive, collaborative care.
Sage seamlessly captures essential data that saves lives – helping to identify health anomalies, rightsizing levels of care, and providing transparency around staffing needs. Sage's platform generates insights to enable care teams to make better decisions for residents while driving more efficient operations and transparency for families.
What inspired the start of Sage?
Family. I met the two other Sage cofounders – Ellen Johnston, Chief Product Officer and Matt Lynch, Chief Technology Officer – at Palantir Technologies, where I was helping to build out the company's health care practice. We connected over similarly negative experiences with senior care related to our close family members. We all had personal stories—unfortunate experiences with the limitations of traditional eldercare. Long response times, miscommunication, and lack of data tracking often resulted in inadequate and inconsistent care for our loved ones, as well as guilt and fear in our own hearts as we tried to provide for their comfort and safety. So, in 2020, we came together with a distinct ethos. Older adults are critically important, and their care needs to be prioritized.
How is Sage different?
There is nothing quite like Sage in the market today. Sage is a coordinated care platform and brings together all of the tools a caregiver uses to do their jobs well, so it consolidates their tasks and brings visibility and alignment to the entire care team. The biggest differentiator for Sage is how we leverage data-driven insights to improve operations and outcomes. With detailed care and operational data presented in a dynamic dashboard, Sage provides instant views into resident care needs and trends, community performance metrics, as well as recommendations, insights and easy reporting functionality.
Our product differentiators actually drive the biggest value of all – our superior results. Communities enabled with Sage have seen caregivers' response times improve by as much as 50 percent while also improving caregiver satisfaction and up to a 40 percent reduction in caregiver churn.
What market does Sage target and how big is it? 
Sage technology currently supports senior living communities across the country.
What's your business model? 
We require an upfront implementation fee to cover the cost of deploying our product and a monthly software fee.
How are you preparing for a potential economic slowdown? 
Economic shifts are always on our mind as business leaders and we're being very thoughtful about our burn. Given that the majority of our spend is related to headcount, we have focused on making key strategic hires thoughtfully and automating existing processes with technology to ensure capital efficiency. And by increasing the ROI that we generate for clients, we ensure Sage is a critical investment for our partners as they look for ways to increase their margins.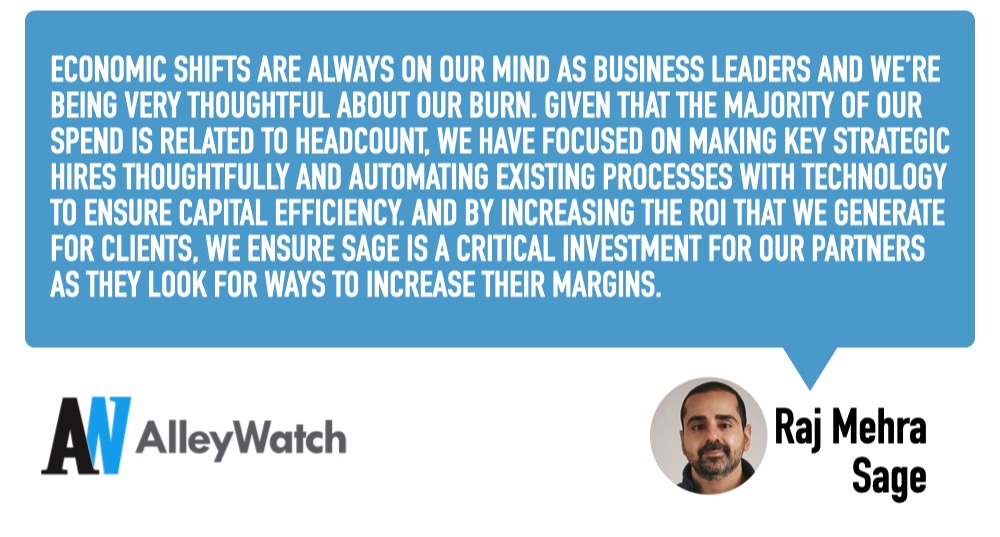 What was the funding process like? 
We found significant interest during fundraising for solutions geared towards the caregiver economy and aging adults. This was different from previous rounds where investors were still trying to understand the space. This time it felt like there was clear conviction around the large opportunity in this market.
What are the biggest challenges that you faced while raising capital?
Generally, there seemed to be a lot of market turbulence. We started fundraising right after SVB's collapse and because both investors and business leaders were trying to understand the implications of that, many investments were paused to allow for analysis and research. However, we also experienced strong interest and saw some bias from investors towards companies that are operating in counter cyclical industries, driving strong growth, and benefiting from market tailwinds. Fortunately, Sage was classified in this category, so we saw significant interest in our round.
What factors about your business led your investors to write the check? 
There were a few key factors that led to a check:
1) Strong team: We have a team of operators with deep expertise across both technology and the healthcare sector and a track record of success.
2) Market need: 10,000 adults turning 65 each day with lack of caregivers and poor outcomes as a result – technology has to help fill this gap to create better outcomes
3) Superior product: 90% caregiver engagement and 95% CSAT with Sage vs. incumbents with poor utilization and 25-35% CSAT
4) Happy clients: Existing Sage clients spoke to investors on site tours about how critical our product has been for their teams and for themselves to gain visibility into their operations.
5) Solid pipeline: We showed a significant pipeline of deals closing at a quick pace.
What are the milestones you plan to achieve in the next six months? 
We will continue to test and ship new functionality within our product and further explore the benefits to be gained from data within the platform for clients. We believe there will also be opportunities to better recognize and reward caregivers and integrate with EHRs to drive robust care coordination for residents in the next 6-9 months.
We will continue to test and ship new functionality within our product and further explore the benefits to be gained from data within the platform for clients. We believe there will also be opportunities to better recognize and reward caregivers and integrate with EHRs to drive robust care coordination for residents in the next 6-9 months.
What advice can you offer companies in New York that do not have a fresh injection of capital in the bank?
Every company's situation is different so I don't believe there is one-size-fits-all advice, but I do think that being thoughtful about spending and remaining ROI-focused is always a strong approach for business leaders. The days of 'growth at all cost' are behind us but I think there are still investors out there looking for strong leadership teams and a sound business case to support.
Where do you see the company going now over the near term?
The Series A funding will support the growth of critical functions within the Sage team, scaling the current client base and developing new high-value product features. This comes on the heels of recent platform enhancements that offer care managers real-time insights, empowering data-driven decisions for things like resident care and staffing.
What's your favorite fall destination in and around the city? 
We love hiking in the Catskills. The Sage team just did our annual offsite there a few weeks ago and we were able to enjoy fall foliage while bonding as a team.
---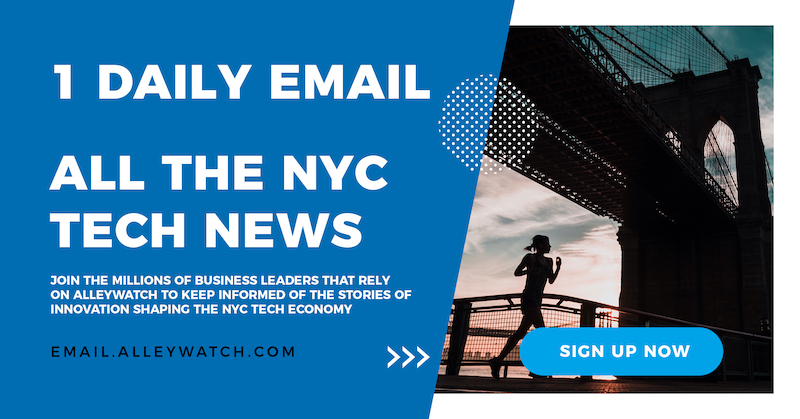 You are seconds away from signing up for the hottest list in Tech!
---