Generative AI is the latest evolution in artificial intelligence that allows machine learning-powered applications to generate various types of content in response to prompts from a user.  AI has traditionally been used to analyze and synthesize data.; this new evolution represents the first time that creative work is being developed by machines at unparalleled.  Runway has built a suite of 30 AI tools that allow users to generate and edit creative content.  The suite contains a number of image generation and manipulation applications that can be trained using AI but where it really shines is in the video development, creation, and editing space. Incorporating specialized effects, audio editing, and motion tracking, the platform allows users to seamlessly create professional-looking videos faster than before with less effort.  Runway is free to use with a Pro plan offered at a mere $144/yr/editor; there's also a Team option available for collaboration.  The company is rooted in a research-driven approach with an emphasis on model training to build its functionality, leading the company to attract an impressive roster of clients that include CBS, R/GA, Vox, Google, and Top Gear America since its founding in 2018.
AlleyWatch caught up with Runway CEO and Cofounder Cristobal Valenzuela to learn more about the business, the company's strategic plans, latest round of funding, which brings the total funding raised to $95.5M, and much, much more…
Who were your investors and how much did you raise?
We raised a $50M Series C led by Felicis with participation from all of our existing investors: Amplify Partners, Coatue, Compound, and Lux Capital. Madrona Ventures along with a handful of angel investors also participated in this round.
Tell us about the product or service that Runway offers.
Runway is an applied AI research company that has developed a creative suite with more than 30 AI Magic Tools that allow users to generate and edit content, serving every aspect of the creative process. Runway's tools allow customers like New Balance, CBS, and Publicis to own their multimedia content creation while saving time and money.
What inspired the start of Runway?
I started Runway with my two cofounders – Alejandro Matamala-Ortiz and Anastasis Germanidis. We were interested to see how computational creativity and neural techniques could serve artists and creatives, so we built tools for them to interact with this emerging technology. As we saw the patterns of usage develop, we saw a lot of opportunity in the video editing space, and shifted our focus to making video editing faster and easier. Today the technology has continued to advance, and the product usage has evolved even further, and we now have over 30 AI Magic Tools that serve across video, image, 3D, and text, all with the goal of democratizing content creation and making tools that are more accessible.
How is Runway different?
We are an applied, full-stack AI company. We own the entire process from research, to model training, to the deployment of products, and that inherent knowledge of the technology allows us to invent and build products quickly, much faster than other companies in the space. The rise of Generative AI will be as transformative to the industry as the CGI revolution in the 80s, and we are excited to pave the way.
What market does Runway target and how big is it?
Our target user base is the creative professional, either working in a company or for a company. We're building a suite of tools that enables professionals to get their work done as quickly as possible, and the legacy tools that exist are ready to be reimagined. These legacy professional creative tools are expensive, and overly complex, and with a new wave of professional creatives emerging, they need new tools that will help them bring their ideas to life.
That's why when we think about building a new Creative Suite, we are not thinking about incremental improvements to maintain the standard of the industry and be marginally better. At Runway, we think constantly about how to redefine that process and create tools for that new generation of creators and companies. This new generation of creators needs a new class of tools: the Generative Suite.
What's your business model?
We have a very simple seat-based model – customers pay by the user, and there are pricing tiers depending on the usage and types of outputs. We can be flexible with our customers based on the specific tools they need.
How are you preparing for a potential economic slowdown?
While we're always keeping an eye on macroeconomic factors, we don't foresee today's massive content needs decreasing – even amid a potential economic slowdown. Content creators will continue to face big demands, and we're here to help them meet those faster and more affordably than alternative tools on the market.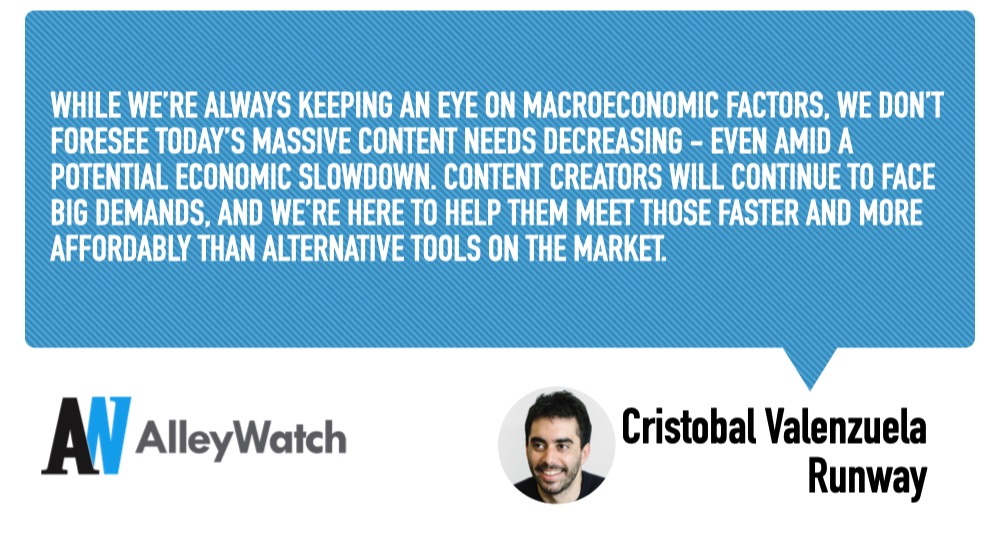 What was the funding process like?
From our first meeting with Felicis, it was clear they understood our vision to define the next era of content, and we're thrilled that they led our Series C. Their participation alongside new investor Madrona and our existing partners – Amplify Partners, Coatue, Compound, and Lux Capital – has further validated our mission to define what's possible with Generative AI.
What are the biggest challenges that you faced while raising capital?
We were well-positioned going into this raise. In fact, we weren't even looking to raise, so the biggest challenge for us was that we had to quickly shift into that mode. We are really excited to have found investors that align closely with our values, which can be a challenge for some. Felicis has helped scale a number of other large companies at our stage of growth, and they've backed a lot of immigrant-led companies, which is really important to us.
What factors about your business led your investors to write the check?
It's many things – our overall mission, our products, and our values led to the interest. Our mission is to make content creation accessible to all and to push the boundaries of creativity. In doing so, we have created a suite of innovative tools that allow creatives to push boundaries across formats and mediums. Uniquely, we build our models from the ground up. We own our entire stack, which is very appealing from a financial perspective. We're a very immigrant-friendly company—my co-founders and I are all immigrants—and visa support for top talent has always been a focus of ours. I think when you put all that together, you get a business that presents a unique value proposition. And of course, the space is hot – you've seen a number of companies raise money, and our round was oversubscribed.
What are the milestones you plan to achieve in the next six months?
We ship fast, so you'll see new features continue to come weekly. This new funding will also help us invest further in R&D, and double down on hiring. We have an incredibly high bar for new hires, so this backing will help us continue to target the best talent the market has to offer.
We ship fast, so you'll see new features continue to come weekly. This new funding will also help us invest further in R&D, and double down on hiring. We have an incredibly high bar for new hires, so this backing will help us continue to target the best talent the market has to offer.
What advice can you offer companies in New York that do not have a fresh injection of capital in the bank?
My biggest piece of advice is to focus on building and own your tech stack. Investors didn't give us the time of day back in 2018 when we launched, but we kept pushing and building. We gained momentum with the release of Latent Diffusion, but it's really about building good tools and good products. Whether or not investors were knocking down our doors, we kept building.
Where do you see the company going now over the near term?
We are continuing to see the rise of Generative AI, and in the near future we believe we will see full-feature films that are entirely generated. The characters, scores, b-roll, backgrounds, everything will be able to be generated with AI, and that will open the door for new creators who have important stories to tell. That's what we're building towards, and building for. By using natural language as the engine for our powerful generative and editing tools, we're leveling the playing field for current and emerging creatives, and saving them time and money at the same time.
We have grown a lot over the last four years and will keep pushing the boundaries of AI in content creation.
What's your favorite restaurant in the city?
Kiki's. We also had our first all-team offsite dinner here, so it's a special place for our team.
---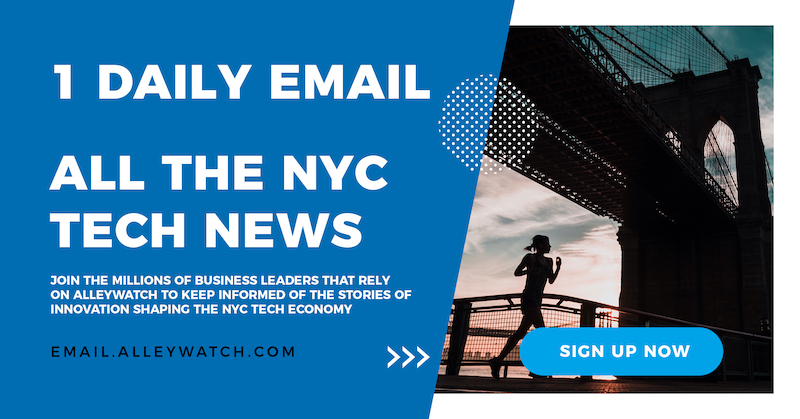 You are seconds away from signing up for the hottest list in Tech!
---