While decentralization is one of the most significant benefits of the blockchain, having data in a number of disparate locations presents challenges for readily accessing data across different chains and applications. There hasn't been an efficient solution efficient to make data accessibility seamless for web3.  Elementus is a blockchain data intelligence infrastructure platform that empowers organizations with visibility and traceability, providing access to unstructured data across the blockchain.  The platform is versatile in that it can be used for deriving intelligence, for investigative and forensic purposes in illicit transactions, and for risk and compliance management.  Elementus is presently working with a number of financial institutions as well as governmental agencies to take control of their data and ensure that web3 ecosystem will be safe thanks to the transparency provided by the platform.
AlleyWatch caught up with Elementus Founder and CEO Max Galka to learn more about the business, the company's strategic plans, latest round of funding, and much, much more…
Who were your investors and how much did you raise?
This was a $10 million A-2 round, which was led by ParaF Capital. Also involved in this round were Moonshots Capital, Spitfire Ventures, Colaco Investment Group, along with participation from several individual investors. The investment brings Elementus' total funding to $27M following our $12M A raise late in 2021.
Tell us about the product or service that Elementus offers.
Elementus helps organizations solve the toughest blockchain data problems. We offer a blockchain infrastructure solution that makes accessing and understanding blockchain possible with unprecedented levels of visibility and traceability. We help organizations investigate on-chain activities, identify risk, discover valuable market intelligence or a combination of all three, and provide the most complete data set and sophisticated tagging/attribution capabilities on the market.
Our platform is used by financial institutions to build the future of finance and commerce on the bedrock of blockchain and digital currencies, by key U.S. governmental agencies to solve some of the most high-profile ransomware investigations and we've helped unsecured creditors committee of some of the largest crypto bankruptcy cases in the past year trace lost funds.
What inspired the start of Elementus?
I'm a former Wall Street trader and data scientist, who loves leveraging data to solve problems. When I discovered blockchain technology, I saw in it the ultimate medium for analyzing and visualizing data: an open-source, permissionless database available to anyone with an internet connection. I was completely captivated.
But over time I began to understand that blockchains weren't as accessible as they seemed and that there existed a fundamental problem in its underlying infrastructure. This led to nounding of Elementus, created to make blockchains more accessible, transparent, and to provide the necessary infrastructure needed in order to do so.
How is Elementus different?
Put simply: our data. We offer comprehensive data sets in the market and when combined with our patented algorithms, we enable financial institutions and crypto exchanges of any size to leverage the blockchain with ease and confidence.
Accessing and understanding the blockchain is critical as we shift from web2 to web3 and its sophisticated tooling and access to data that will not only drive further adoption of blockchain technology, but also help spur new insights that weren't previously imaginable. We make this possible with unprecedented visibility by leveraging the power of data and by providing the critical infrastructure that allows organizations to navigate web3 safely and with confidence.
What market does Elementus target and how big is it?
At the most basic level, our market is any blockchain-based business. Today, financial institutions (fintech) are the most mature adopters of blockchain technology however Elementus' data intelligence platform is also built for businesses exploring entering the space.
We've done a thorough total addressable market (TAM) analysis and conservatively estimate a market size of $10B. Zooming out, Gartner estimates the broader business value generated by blockchain will reach $176B by 2025 and over $3 trillion by 2030. More recently, according to ARK Invest research, cryptocurrencies and smart contracts could create $20 trillion and $5 trillion in market value, respectively.
What's your business model?
We run a SaaS-based business model and charge a recurring monthly fee for our platform. Additionally, we provide advisory services related to blockchain forensics and investigations.
How are you preparing for a potential economic slowdown?
Our team is very disciplined with our capital allocation decisions, closely monitoring our burn rate and being thoughtful about how we build out our team. This mindset serves us well during economic expansions and slowdowns. Additionally, because we're a key infrastructure provider for accessing blockchain data, customers use our platform during market ups and downs.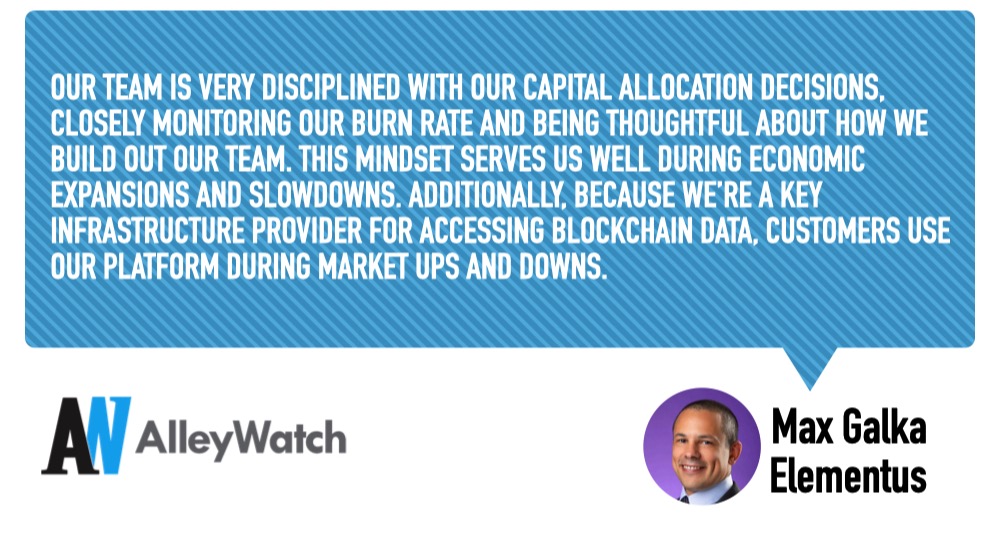 What was the funding process like?
Our team wasn't actively looking to raise capital, but after meeting Ryan Navi and the ParaFi team, we decided to opportunistically raise additional capital with a long-term focused partner who aligns with our vision. Rather than have a formal fundraising process, we decided to have an extra tranche of capital as part of our earlier Series A funding.
What are the biggest challenges that you faced while raising capital?
Any fundraising process takes a lot of time and effort, so it's always challenging to maintain organization throughout that process, while simultaneously keeping your team focused on key priorities. Try your best to run an organized capital-raising process and keep building momentum with your team.
What factors about your business led your investors to write the check?
The team at ParaFi Capital believes there are significant value-creation opportunities at the data and infrastructure layer of blockchain, which is our domain of expertise. The team also saw an opportunity for platforms like Elementus to not only make blockchain data more accessible and transparent but also drive new insights and revenue opportunities for customers. These core beliefs about our business model ultimately led ParaFi Capital to be our lead investor.
What are the milestones you plan to achieve in the next six months?
We plan to bring a new product to market in the first half of 2023. This product offers sophisticated tooling and access to data that will not only be key to drive further adoption of blockchain technology but will also help spur new insights that weren't previously imaginable. Additionally, we plan to expand our team, and are actively hiring for new team members.
We plan to bring a new product to market in the first half of 2023. This product offers sophisticated tooling and access to data that will not only be key to drive further adoption of blockchain technology but will also help spur new insights that weren't previously imaginable. Additionally, we plan to expand our team, and are actively hiring for new team members.
What advice can you offer companies in New York that do not have a fresh injection of capital in the bank?
While the current economic environment is uncertain and volatile, don't get dissuaded by the doom and gloom. Operate your business with discipline and remain thoughtful with your capital allocation decisions. Also, stay focused on your key business priorities and try to keep the momentum going. Most of all, reach out to your New York-based peers for best practices and advice. Hearing from fellow operators who are also navigating a challenging environment can be very helpful.
Where do you see the company going now over the near term?
Our team is going to remain extremely focused on building our new product, delivering much-needed infrastructure for accessing blockchain data, and driving further adoption of blockchain technology. After a tough year in crypto, we see our technology helping institutions navigate web3 with confidence and allow them to gain new insights in the process.
What's your favorite coffee shop or location in the city to hold a meeting?
Our favorite coffee shop, both for an afternoon coffee, or holding a meeting, is Devoción on East 20th Street.
---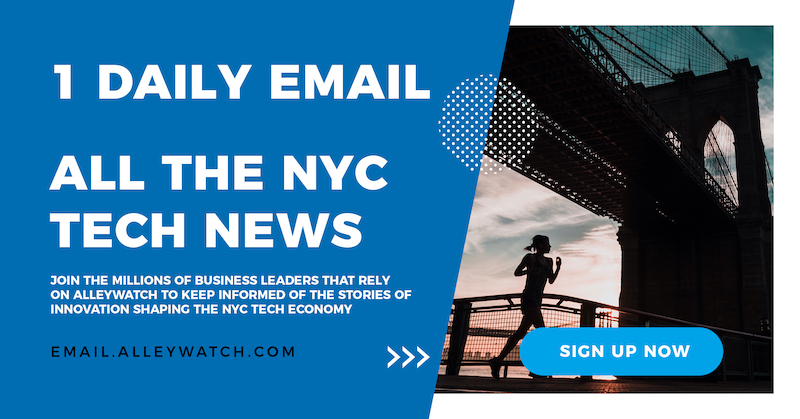 You are seconds away from signing up for the hottest list in Tech!
---