GitHub has become the home for all developers, allowing individuals and teams to collaborate, build, store, and iterate code bases like never before using open source.   A similar need for a centralized community and repository emerged with the popularity and immense demand for AI and machine learning.  Hugging Face is the machine learning community that allows developers to collaborate on models, datasets, and applications by building, training, and deploying ML models using open-source code and technologies. The company has built the most extensive collection of models and datasets with over 300K models, 250K datasets, and 250K spaces.  The platform is free to use with unlimited orgs, private reports, hosted models, datasets, and Spaces with paid options for enhanced features as well as per-use charges for fully managed infrastructure or more sophisticated computing power.  The company has over 50,000 organizations using the platform with over 1M repos.
AlleyWatch caught up with Hugging Face Communications Lead Brigitte Tousignant to learn more about the business, the company's strategic plans, latest round of funding, which brings the company's total funding raised to $395.2M, and much, much more…
Who were your investors and how much did you raise?
We raised $235M with backing from Google, Amazon, Nvidia, Intel, AMD, Qualcomm Ventures, IBM, Salesforce Ventures and Sound Ventures in a Series D round.
Tell us about the product or service that Hugging Face offers.
Hugging Face is the most-used open platform for AI builders. More than 50,000 organizations are using it to build, train, and deploy AI models like Stable diffusion, StarCoder, Llama, and more. It hosts over 300k models, 250k datasets, and 250k spaces.
What inspired the start of Hugging Face?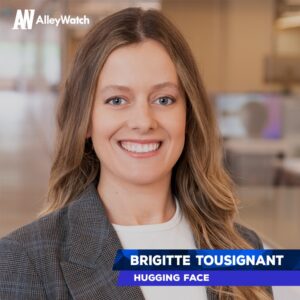 The emerging ML/AI capabilities excited our cofounders, leading them to create a conversational AI chatbot that was intended for fun. Inspired by the community's growing interest in the chatbot and the AI models behind it, the trio decided to democratize access to the learning models and make it open-source for everyone.
How is Hugging Face different?
Hugging Face takes an open-source first approach to everything it creates. Often called the "GitHub for Machine Learning," it is now the number one resource for engineers, researchers and hobbyists in the AI space.
What market does Hugging Face target and how big is it?
Hugging Face targets professional organizations, companies, researchers and hobbyists looking to advance their AI capabilities in a collaborative spirit.
What's your business model?
Freemium model. The majority of our features are free, with some paid premium features, support and infrastructure.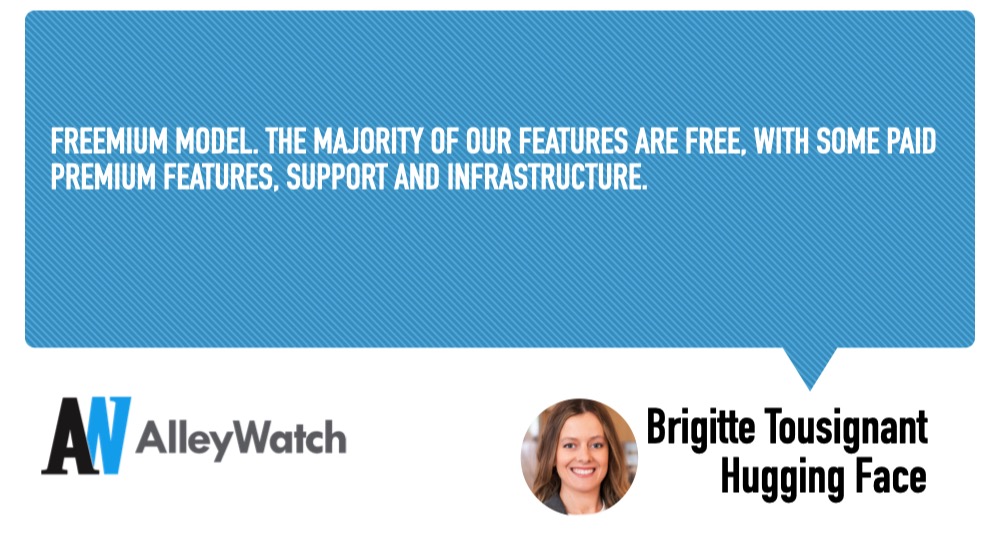 How are you preparing for a potential economic slowdown?
We keep investing in features and capabilities that are creating real value for companies.
What was the funding process like?
The process spanned a few weeks over the summer. What made it unique was that so many important tech companies participated.
What are the biggest challenges that you faced while raising capital?
With so many leading tech companies participating, the main challenge was handling this complexity with so many different stakeholders.
What factors about your business led your investors to write the check?
Our central position within the AI ecosystem and the growth of our adoption rate (1 million repos).
What are the milestones you plan to achieve in the next six months?
We hope to keep growing the number of repos and usage, maybe reaching 10M+ repos next year.
What advice can you offer companies in New York that do not have a fresh injection of capital in the bank?
Keep focusing on creating real value.
Where do you see the company going now over the near term?
AI is becoming the default way to build tech, so Hugging Face will remain the number one platform for AI builders.
---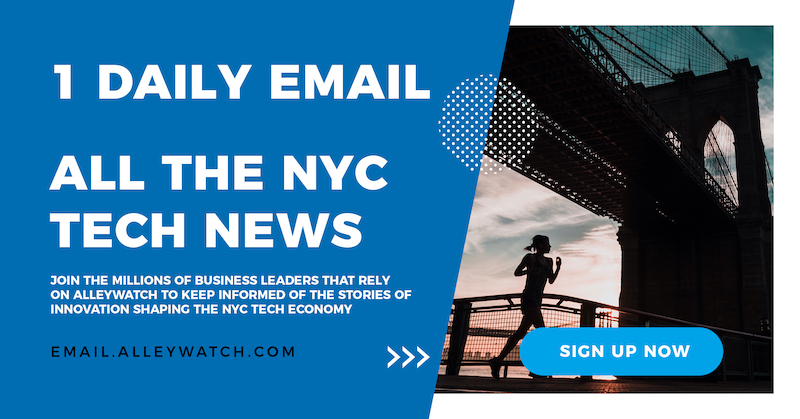 You are seconds away from signing up for the hottest list in Tech!
---